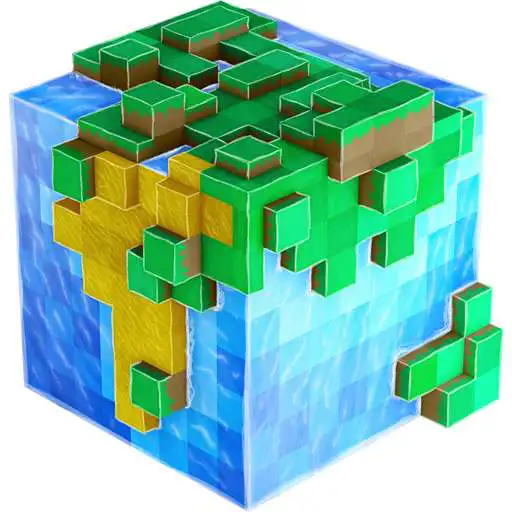 WorldCraft : 3D Build Craft
The official app &amp game
Distributed by UptoPlay
SCREENSHOTS
DESCRIPTION
Play this online game named WorldCraft : 3D Build Craft.
Play best block craft 3d sandbox crafting and building games free pocket edition version with Survival Craft Offline and Creative Online Multiplayer.
Build creative block world, mine, craft in survival, tame animals, watch out mobs to survive! Infinite exploration, building and multicraft. Create your own 3d cube worlds and upload to multi player for exploration adventure by others.
Join 10+ million players online worldwide to multi craft, survivor build battle, and survive with friends, girls, boys, kids together! Totally, for free!
SURVIVAL CRAFT GAMES
► Survival for my single playing, big crafting and building
► Infinite minicraft world 3d: Start your survival and exploration game on the infinite randomly generated 3d open big servers
► Find different resources, craft blocks and items, build your own shelter to survive the nights!
► Watch out zombies, pumpkin heads and other mobs to battle war and save your health
► Hunt down eatable mobs to fight your hunger like horse, pig, cow, chicken.
ONLINE MULTIPLAYER CREATIVE
► Build your house, mine, island, city, village, kingdom, base, realms, different crazy pixel constructions or whatever you can dream of with thousands of random players or friends in online multiplayer mode. Start from lite and go to pro as a builder, miner, and explorer!
► Explore universes created by others. Construct, destroy and upload your own mini maps 3d and other pixel constructions from single player mode to open online multiplayer server to play with others!
► Create and play minigames: maze, roleplay in family, school, royale and other
► Play on password-protected maps only with friends or people you know
► Create read-only maps viewable to other users
► Colored Chat
► 160+ skins to choose
OFFLINE CREATIVE
► Start infinite sandbox adventure and play offline without wi-fi or internet connection. This simulator is for surviving, royale crafting, building, destroying, kraft, construction, destruction, exploring, hunger games and more!
Worldcraft is a free original sandbox that has numerous features you love on your mobile like infinite worlds in the survivor mods, new attacking mobs like pumpkin heads, multiplayer creative mods where you can build anything with friends and anyone in the block world, ability to chat in the multi player, select your own skin and much more!
OUR SITE: http://playlabsmobile.com/worldcraft
SUPPORT: http://playlabsmobile.com/support
Worldcraft is not an official app of Mojang. Minecraft Games Pocket Edition (PE) is a trademark of Mojang AB, and this product isn't connected with or approved by the developers of this game.
Updates:
- Added FAMILY SKIN PACK – choose your favorite role and create your family in Multiplayer modes!
- Added translation and localization of the Game to German and Russian languages. You can also switch between languages real time in the main menu
- Now you can export any skin to Minecraft Game. Just select the skin, go to Options->Multiplayer and press "EXPORT SKIN TO MINECRAFT" button
- Multiplayer network speed improvement
- 3D rendering optimization
WorldCraft : 3D Build Craft from UptoPlay.net
Page navigation: