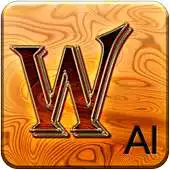 Words AI Offline
The official app &amp game
Distributed by UptoPlay
SCREENSHOTS
DESCRIPTION
Play this online game named Words AI Offline.
Words game you can play offline or online, on same device or bluetooth.
You can choose Scrabble rules or Erudit (Russian version of scrabble game) rules.
Words AI Offline is:
Two dictionaries (OSPD,SOWPODS)
Rich settings menu. You can change rules.
-Set time limit
-Set score limit.
- Play advanced rules version of this game: Erudit.
(In Erudit game you may put few words within one turn.)
4 level of difficulty , in easy level AI select most used words. In hard - it can use whole full dictionary.
Updates:
Support android Oreo 8
Words AI Offline from UptoPlay.net
Page navigation: