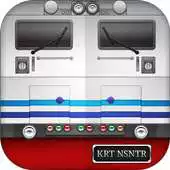 Tiket Kereta Api
The official app &amp game
Distributed by UptoPlay
SCREENSHOTS
DESCRIPTION
Play this online game named Tiket Kereta Api.
An Application from Indonesia for Indonesia, Tiket Kereta Api by Indonesia Flight.
Tiket kereta api mudik lebaran & arus balik 2017 - Train Tickets for Homecoming 2017 (Train Ticket for Eid holiday season) can be purchased At Tiket Kereta Api Application here.
Tiket Kereta Api - Tiket KAI also provide additional tickets at the homecoming Lebaran holidays 2017
There are plenty of promo train tickets. Get discount IDR 20.000 for all train tickets, use promo code : KERETA20. Terms and Condition Apply.
Tiket Kereta Api App is an easy, quick and trustworthy ticket reservation for trains since 2012.
Every day, there are more than 1.000.000 subscribers. Tiket Kereta Api as an application provides the ease of booking tickets by avoiding the need to queue at the train station for tickets.
Customers are able to check on train schedule, book tickets and pay. A voucher will be sent through email in approximately 5 minutes.
WHY DOWNLOAD TIKET KERETA API APP ?
1. Customers will be free to choose their own seats in train.
2. Tiket Kereta Api App provides options of more than 200 train stations within all routes all over Indonesia. There are 3 classes available: Economy, Business and Executive.
3. Customers will have the access to train schedule and book tickets up to 90 days ahead.
4. Multiple payment methods can be chosen through Transfer of ATM (ATM Bersama). Online transfer, M-Banking and KLIKBCA (for BCA customers). BRI, BCA, ePay, Mandiri Clikpay, BCA Klikpay and Credit Cards. All transactions handled through application of Tiket Kereta Api are guaranteed to be 100 safe.
5. Tiket Kereta Api App brings the information of the subclass trains as well as channel discounts provided by PT. Kereta Api Indonesia.
6. The application is available for FREE download.
Tiket Kereta Api App won't take too long for booking tickets. It's all within the finger reach and in just 5 minutes. The voucher of train tickets will soon be sent through emails.
How to exchange vouchers into the physical/printed tickets:
1. Print voucher or simply show voucher/SMS to the nearby online station by also bringing genuine ID card of the traveler who will go with train.
2. Use CTM (Cetak Tiket Mandiri). It's a machine to print tickets that can be found at the train station. To print the tickets, type a booking code printed on the voucher.
Let's support Indonesia to become more advance by buying railway tickets online.
For information and suggestion about the application, send email to:
[email protected]
Indonesia flight is an official partner of Tiket.com
For further information, please contact Tiket.com Customer Service at 021-2963 3678 (24/7)
Updates:
Edo's Railroad Journey
Edo, the traveller eagle, getting ready to onboard the train to travel around Indonesia! Follow his railroad journey on Chapter v1.4.0:
1. Flawless Interface
Edo is amazed by the breath taking view along the journey, because we have optimized the interface window for his viewing
2. Hassle Free Travel
Edo enjoys his smooth ride because all the bugs & problems have been removed out of the way!
Any suggestions for Edo's next destination? Tell us at
[email protected]
⁠⁠⁠⁠
Tiket Kereta Api from UptoPlay.net
Page navigation: