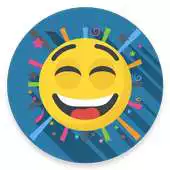 Switch Color Happy
The official app &amp game
Distributed by UptoPlay
SCREENSHOTS
DESCRIPTION
Play this online game named Switch Color Happy.
Welcome to this Switch Color! Switch Color is a one-touch arcade where you have to press a jump ball, and you must follow the pattern on each obstacle to cross it!
The game is simple on the surface - tap to keep a Switch Color bouncing in the air and match its Switch Color to an obstacle to cross it. Go through as many obstacles as you can before crashing into a different color of your cube . The challenge of the game is that the obstacles are moving and the Switch Color changes color.
Switch Color It is press the cube with intense precision to be able to cross the various obstacles; Your ball will change obstacle at each intersection with bonuses you encounter during your trip .
Be focused, careful and smart so that you cross the obstacle with the appropriate Switch Color
Over time, obstacles become more complex using different speeds, shapes and color areas. And as we have come to expect from these types of high score hunters, even though the gameplay may be simple, it is also addictive.
Be careful not to go through the wrong Switch Color , or you will have to start over.
You will need quick reactions and nerves of steel in Switch Color !
- Impressive color patterns in Switch Color .
-Easy to play Switch Color , hard to master.
- Switch Color HD graphics
-A better interface in Switch Color
-Simple and addictive gameplay Switch Color
Page navigation: