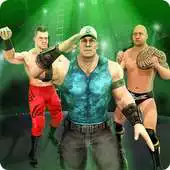 Real Wrestling Rumble Revolution: Smack That Down
The official app &amp game
Distributed by UptoPlay
SCREENSHOTS
DESCRIPTION
Play this online game named Real Wrestling Rumble Revolution: Smack That Down.
Drag the rope and get ready for royal raw free world ring revolution champions wrestling fighters game 2018 battle. So get the heavy weight wrestlers' power intensity high and immerse yourself into ultimate world wrestling ring action.
Real Wrestling Rumble Revolution: Smack That Down
is the realistic 3D street fighting sports game. In action packed royal wrestling rumble, you have to fight using various fighting techniques with traditional bad blood wrestling to smack wrestlers down the ring.
Royal world wrestling ring rumble offers real cage ring revolution fighting experience to wrestling fans. Become the heavy weight champion and drag the rope to smeck down wrestlers in fire raging real grappling tag team battle. Knockout wrestlers in real cage rumble wrestling mania fighting, the biggest arena battle game. In
Real Wrestling Rumble Revolution: Smack That Down
& beat down all the opponents in world ring cage to become the super wrestler star free wrestling game bad blood tournament champion 2018.
Ring Wrestling Mania Features:
☑️ Real cage World Wrestlers Champions Selection
☑️ Realistic wrestling moves & fighting techniques
☑️ Ring fighter cage battle tournament
☑️ Different wrestling ring selection
☑️ Various props to hit and smash opponents
☑️ Spot on sound effects
☑️ Smooth and intuitive controls
Real Wrestling Rumble Revolution: Smack That Down
royal battle starts now. Amongst heavy weight fighting champions you have to select your favourite one who is going to combat for you against furious wrestlers. This world wrestling ring fighter tournament is an arena battle, whereby you have to fight against all champions wrestling fighters in ring wrestling cage fight. Try your best to trick & dodge all the opponents, smack them down and be super quick giving no chance to other wrestlers to attack you. Eliminate each and everyone of them from real cage ring, drag the rope, throw them out to become pro wrestler and world ring revolution champion.
To combat against other players in street fighting rumble wrestling ring revolution, crush and defeat them using various fighting techniques such as boxing, kung fu stunts, kicks, joint locks and so on. Be furiously aggressive & strive hard to to stay inside the ring and do not let anyone drag the rope to smack you down on the bad blood floor. Build your stamina as amazing world wrestling ring fighter champion. You can use various props such as chair, table, ladder, wooden crates and metal rods to hit hard wrestlers.
Download now
Real Wrestling Rumble Revolution: Smack That Down
and start bad blood rumble world free wrestling game 2018 fight to become royal tag arena battle champions wrestling rivals revolution battle in this old classic rumble world ring fighter revolution.
Updates:
Real Wrestling Rumble Revolution: Smack That Down from UptoPlay.net
Page navigation: