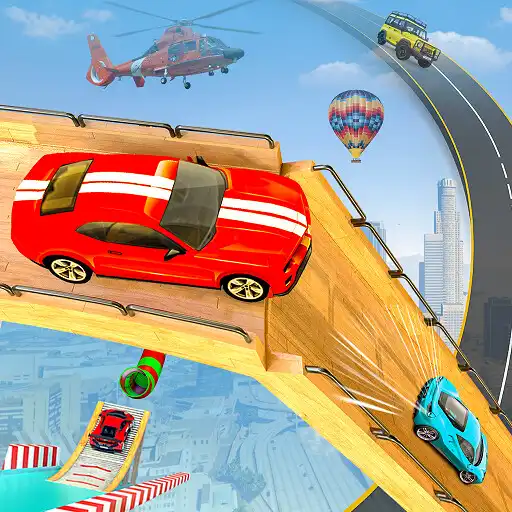 Ramp Car Stunt Game: Car Games
The official app &amp game
Distributed by UptoPlay
SCREENSHOTS
DESCRIPTION
Use UptoPlay to play online the game Ramp Car Stunt Game: Car Games.
This mega ramp car stunt - impossible tracks stunt car games has addictive and sensational interface where you will perform stunt racing efficiently on mega ramps. Choose your favorite stunt car and race on impossible tracks with proper speed and acceleration. Perform cyber truck stunts and formula car gt racing stunt in this latest and amazing mega ramp car racing to enjoy in impossible tracks 3d. This ramp car stunt: GT racing stunts games is interesting free stunt game where you can perform jump,

Let's start driving heavy duty oil cargo truck and transport oil and fuel from oil refinery to different fuel stations in this truck simulator 2021 games. It's a free driving games offline. If you want to drive heavy oil cargo truck on mountain and offroad tracks of deadly mountains then try one of our oil tanker truck driver 2021 game with fuel transportation. You are going to perform the most important fuel transportation in new driving games oil tanker transporter 2021 & truck simulator game. Start oil cargo truck engine and enjoy uphill drive to oil refinery and fill your oil tanker. Your mission is to drive extreme heavy cargo simulation & transport oil in different locations, fuel stations and refill jet fuel on dangerous offroad tracks in this driving simulation games 2021.

A great idea of mega ramp car jump simulator where every level is fascinating. Get ready for impossible stunt car driving simulator game and wear seat belt to complete the extreme city gt stunts car racing impossible challenge one by one.

You might have experienced many well of death car driving games but the combined fun provided in this ramp car will take you to the level beyond your imagination. Lets be ready and enjoy car driving in ramp car games. The amazing thing is, here you will get the chance to play on mega ramp jumping while performing mega ramp car stunts on the tracks of car stunt games. Mega ramp car racing challenge is impossible to do on round and tricky tracks in stunt car games.

This car stunt game contains a variety of exciting racing modes including mega ramp, impossible tracks 3d where you will do mega ramp extreme stunts by driving your dream cars. New mode of stunt driving games will give you a thrilling experience of stunt car gt racing where you will drive the taxi at top speed that combines the flavor of mega stunts and taxi car. Impossible mode will engage you with its challenging and tricky tracks which makes everyone crazy for impossible car driving games. Show your madness for ramp car stunts games and enjoy new games 2021 for free.

we are always trying to Discover something new games for all users. Download car stunt games from Role-playing games category and Be the first to play Games in open beta. Enjoy the realistic steering control of impossible track 3d drive with the latest racing cars to make you a professional stunt driver of ramp car jumping games.

Easy and smooth controls of Car Stunts driving simulator and longest stunt tracks with impossible car stunts of non-stop thrilling adventure keep you engaged with sky rooftop stunts. In this impossible track game, you can get the best extreme car stunt driving experience on impossible tracks by performing ultimate car racing stunts. But be careful while driving the car on impossible tracks and show your crazy car stunt master & ramp car driving skills in this free car games 2021.

Different formula race vehicles selections of this formula car stunt driving will amuse you in the sea water climate. Run formula car drive of ramp car impossible ramp simulator over sea view and enjoy top formula car driving in sky ramps with your selected formula car challenge.
Enjoy with UptoPlay the online game Ramp Car Stunt Game: Car Games.
ADDITIONAL INFORMATION
Developer: GamesLogics
Recent changes: known issues removed
Page navigation: