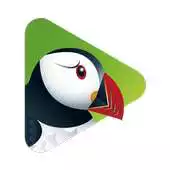 Puffin TV
The official app &amp game
Distributed by UptoPlay
SCREENSHOTS
DESCRIPTION
Play this online game named Puffin TV.
Puffin TV is a special edition of Puffin optimized for Android TV users for video watching, music listening and Internet surfing.
A better user experience is made possible by Puffin's wicked fast cloud rendering. Puffin is faster than other browsers or even native apps. The performance advantage is especially noticeable on entry-level Android TV sets.
Puffin TV removes the traditional web browser UI for a fully immersed Android TV experience. Puffin UI is kept as subtle and intuitive as possible. For example, Puffin TV automatically recommends most popular sites for users. It has never been easier to share a page from your smart phone to Puffin TV.
☆ Incredible page load and rendering speed
☆ Optimized video playback
☆ Intuitive app navigation design
☆ Sharing pages to Puffin TV from any devices
☆ Full web experience
☆ Fastest JavaScript engine
===== Limitations =====
* The data centers of Puffin are in the US and the cloud servers can only access public web sites from US geolocations.
* For users outside the US, local contents, especially videos of local interest, may not be accessible from the US due to geo-restrictions in their home countries.
* Puffin is blocked in some countries (e.g., China, Saudi Arabia, United Arab Emirates) and by some schools (e.g., in United States).
Updates:
- Upgraded Rendering Engine
- Pop-up Blocker
- Input URL or search directly from URL bar
- Navigation History
- Download files list
- Switch between and close opened tabs
Puffin TV from UptoPlay.net
Page navigation: