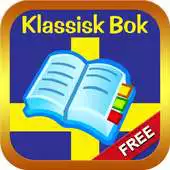 Popular Swedish Books
The official app &amp game
Distributed by UptoPlay
SCREENSHOTS
DESCRIPTION
Play this online game named Popular Swedish Books.
If you love Swedish stories, POPULAR SWEDISH BOOKS is a special gift from us to you.
Read free Swedish books. Discover the best Swedish stories by popular writers.
- Search and browse more than 51 books
- Downloaded books can also be read offline
- Customize your reading settings to personalize your experience
- Collect & organize your favorite books
- User-friendly interface and intuitive control
- Other useful features not to miss: recent read books
- Share books with friends via email, facebook, ...
What are you waiting for? Download our app & Get started reading today!
Please let us know if you have suggestions.
Updates:
Popular Swedish Books from UptoPlay.net
Page navigation: