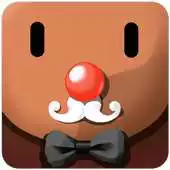 Please Mr.Rudolph
The official app &amp game
Distributed by UptoPlay
SCREENSHOTS
DESCRIPTION
Play this online game named Please Mr.Rudolph.
We can be Santa Claus ! Help Rudolf for giving presents to Children.
"Please Mr.Rudolph" This is very short-time consuming but interesting and casual game.
- How to Play Game
* When start, Select the same presents showing in upper part on your screen. Watch out! If you choose the different thing , this game will be over.
* If You Choose wrong gift then will be Game Over.
* If you meet this situation, you can keep a game in only one time. For that, you can use Santa coin, it's sort of money in our game, or "Keep Going" item.
If you don't use two methods , your game will call it quit.
* For achieving high scores, you have to hurry up to choose the same present.
(Shorter time, Higher Scores)
You can see detailed information about scores , if you push "i" button on your result screen.
* You can buy various items and decorate your Rudolf with some items.
For that you will use Santa Coin to get in this game.
Watch out!!
Every information related to this game will be stored in own your device.
So if you delete this game or data, you could not restore your data.
Please, Be careful~~
Updates:
1. 상단 배너 광고 제거.
Please Mr.Rudolph from UptoPlay.net
Page navigation: