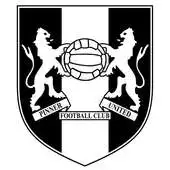 Pinner United Football Club
The official app &amp game
Distributed by UptoPlay
SCREENSHOTS
DESCRIPTION
Play this online game named Pinner United Football Club.
This app has been developed for Pinner United F.C., a youth football club playing in West London, England. Pinner United is a member club of the Harrow Youth Football League, the Harrow Soccer 7s Combination and the Watford Friendly League.
The club has sides playing in all forms of youth football, 5v5, 7v7, 9v9 and 11v11 and is a Football Association Charter Standard Club of many years standing. We operate within the rules of Youth Football Association codes and offer football for boys and girls up to the age of 13. We do not currently have any all-girl sides but it is intended that this will happen when we get more enquiries from girl players. The club also runs the Pinner United Football Academy coaching very young children from the age of 4 up to 7 years of age at which point we expect them to fit into our club sides.
The target audience for the app is its members, players and the hundred plus youth football clubs playing in the locality.
The main features of the app are:
Our Teams –featuring each of the Pinner United sides, information about them and a photo of each side.
Fixtures – lists the forthcoming fixtures for the next weekend for each side.
Contact – to allow prospective members, players and advertisers to contact us.
Messages – the push message feature so key to reaching our target audience.
Pitches – provides details of where we play our matches, which can be used by all to locate where our matches are going on.
Match Results – gives results of the weekend fixtures and would be used by members, players and members of other clubs.
Team Result – allows managers to directly input their results to the app.
Updates:
Group Messaging
Bug Fixes
Pinner United Football Club from UptoPlay.net
Page navigation: