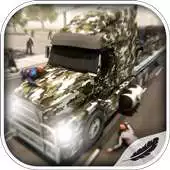 Offroad US Army Transport Simulator Zombie Edition
The official app &amp game
Distributed by UptoPlay
SCREENSHOTS
DESCRIPTION
Play this online game named Offroad US Army Transport Simulator Zombie Edition.
Hold your belts tight for the most thrilling post-apocalyptic zombie survival urban driving adventure sim in US Army Transport Game of 2017 where you as a US army transporter multi trailer truck is going to do extreme hard tasks of transporting and driving US jeeps, cruisers/ cruiser taxi, truck, cargo etc. from the US military base to the survivors of zombie apocalypse, the zombie killer squad the sworn enemies of the zombie king, using multi trailer truck to the heroes of the apocalypse whom survived. Perform your duty as an on-road army military truck driver and transport jeeps, cruiser taxi on big trailer military truck on rough and dangerous urban roads. Remember the roads are filled with the undead zombies whom you have to smash & kill & don't let them delay your delivery. US Army Survival Jeep Transport Zombie Apocalypse has extreme dangerous sharp turns, offroad cruiser/offroad truck adventure, driving and car transport missions. There is an amazing army helicopter that you will fly high in the air as US flying pilot to transport cargo and jeeps to army heroes.
US Army Survival Jeep Transport Zombie Apocalypse gives you this amazing chance of becoming a pro military car transport hero of US army by driving and transporting army vehicles like SUV, cruiser, jeeps and vehicles undamaged to the remaining heroes of apocalypse.The dead rising has increased and more dead rising is anticipated in future. It's a high time to check your driving and military transporting skills. There are jeeps, cargo and army relief that you need to load on heavy multi story military truck and transport them safely within the given time allotted. So fasten your seat belt for real challenge and become real transport legend hero of 2017. Like flying airplane pilot & flying helicopter pilot take goods safely to their destination you will transport these goods on land using a multi trailer truck not using and helicopter or airplanes.
US Army Survival Jeep Transport Zombie Apocalypse gives you the enthralling task to transport Military cargo including army transport vehicles such as jeeps and army trucks via a Transport multi story truck. In this game there are no tanks but cruisers, jeeps & SUV's to take over the cargo transport work. This thrilling game gives you the chance of being the fastest army transporter without using a helicopter or airplane taxi for fast delivery of army cargo.
Don't let loose! there are levels when this transport sim uses thrilling levels where army transporting is made difficult along the way. As the army truck carries the army heroes, it gets attacked by the undead zombies. You have to keep driving the offroad cruiser & offroad truck transport, and achieve zombie survival to take it to the destination non military base. The transport multi story trailer truck that is under your primary control has also got to go through a lot of obstacles including a dangerous urban city curves, underpasses and highway bridges. Keep out from the slopes which can cause your truck to stuck! Don't miss the chance to play a responsible US army man who drives an army truck and be the savior of saviors.
Let's go captain its time to deliver our cargo to the survivors of the zombie apocalypse , the last zombie killer squad. They are waiting for their rides to reach them.
Features:
• Thrilling Urban City Transport and Driving Sim of 2017
• Variety of Transport Missions in this Offroad Adventure
• Dangerous Urban City Turns, Jeeps, Truck, Helicopter and Much More
• Beautiful 3D Graphics and Engaging Sound Effects
• Enthralling Urban City Adventures With Best Transport Simulator
• Dangerous Transport Missions And External Force Attacks
• Multi Story Transporter Truck for More Vehicle Delivery per Trip
• Advance Controls Of Cruisers, Trucks, SUV's, Jeeps With Real Time Physics
• 3D Graphics And Engaging Sound Effects
• Transport Different Military truck vehicles like Cruisers, Trucks, SUV's, Jeeps etc.
Updates:
* Bug Fixes
Offroad US Army Transport Simulator Zombie Edition from UptoPlay.net
Page navigation: