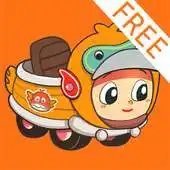 NORI Free
The official app &amp game
Distributed by UptoPlay
SCREENSHOTS
DESCRIPTION
Play this online game named NORI Free.
[Roller coaster boy Nori is...]
★ It's a story about a boy rolling and rocking to the world!
NORI is a cute little roller coaster who lives in NORI Park.
He is rolling very very well.
NORI wants to be like his dad DRAGON RIDER, the fastest roller coaster in Nori Park! Will they survive when the roller coaster tycoon VEGAS rules the town?
[Play with Nori]
- Korean and English subtitles. (working on Japanese)
- Listen to Nori's story through Dad and Mom's voice.
- Auto-Play for the whole book. (over 15-minute running time)
It's a digital fairy tale written & created by Xris Sohn.
Email to the writer :
[email protected]
Copyright ⓒ 2012 All rights reserved by XrisP
www.xrisp.com
Updates:
- The manual and index pages are renewed.
- The voice recorded function is added.
- Trailer is added.
- Nori facebook page is connected to nori's app.
- NORI's podcast audio book is connected.
- Bug is fixed.
NORI Free from UptoPlay.net
Page navigation: