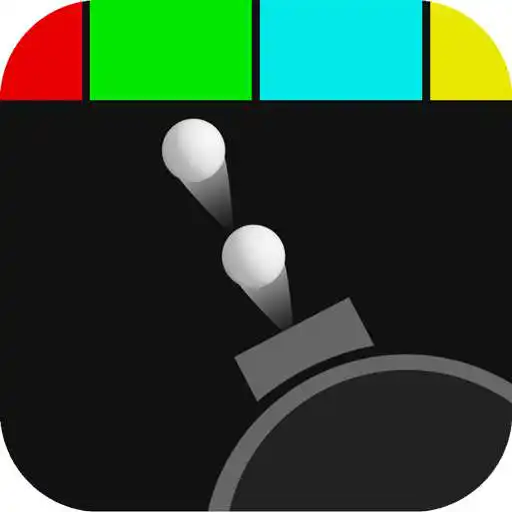 Nonstop Balls
The official app &amp game
Distributed by UptoPlay
SCREENSHOTS
DESCRIPTION
Use UptoPlay to play online the game Nonstop Balls.
Nonstop ball shooting brick breaking action! Bounce balls around to break blocks. Relax your brain! This is the ultimate casual game!

Game Features:
- Original Gameplay! Non-stop actions!
- No need to wait for all balls to fall back before shooting again!
- Upgrade balls and cannon for higher score!
- Collect Power Ups for even more action!
- Over 50 Customizable Themes & ballz!
- 150 Unique Challenge levels!
- Amazing Graphics and Animations!

Get this action packed arcade game today for free!
Enjoy with UptoPlay the online game Nonstop Balls.
ADDITIONAL INFORMATION
Developer: ThinkCube Inc.
Genre: Arcade
App version: 1.3.6
App size: 16M
Recent changes: Minor Bug Fixes
Comments:
Honestly the game has potential, but it is almost literally impossible for me to progress anymore. Every time you upgrade the damage you deal per shot, the minimum requirement for damage to destroy the FIRST ROW of blocks goes up by 2, and everything behind the first row goes up exponentially. It's almost completely unplayable. And there are too many ads.
`Like everyone else said there's constant ads and also the controls for me. What does this game mean by "non stop balls" if I only started with 4 and I can't get anymore...other then I guess destroying the bricks that show a number on them but either way, you can't expect players to load into a game and know what to do. I might just be blind or dumb but I'm pretty confused as to how to get "nonstop balls"`,
Do not spend any money on this game. Any advancement that you make in the game is negated by an exact difficulty increase in the blocks. If you increase your Firepower by 1 by paying for it the blocks will also increase by 1. I have tested this over 150 in each possible area of advancement and no game was either any easier or harder than the last or lasted any longer than the previous one. Upgrades in this game do absolutely nothing because the difficulty exactly responds to that upgrade to make the game is equally difficult each and every single time.
This game is very fun and I like how it has challenges and free play. The big problem is that there is an ad after every single round. Rounds are only a few seconds long sometimes. An ad every two minutes or in order to get more stars would be fine. Even every minute would be a significant reduction.
Its alright...i would probably like it better if the block health didnt increase so often with upgrades because i feel i get to around the same distance each time which makes me feel im not getting anywhere and it also takes so long to get stars unless i watch ads...but now i have to watch so many ads as i play just to upgrade more....to me not worth playing so someone else can make money'
Page navigation: