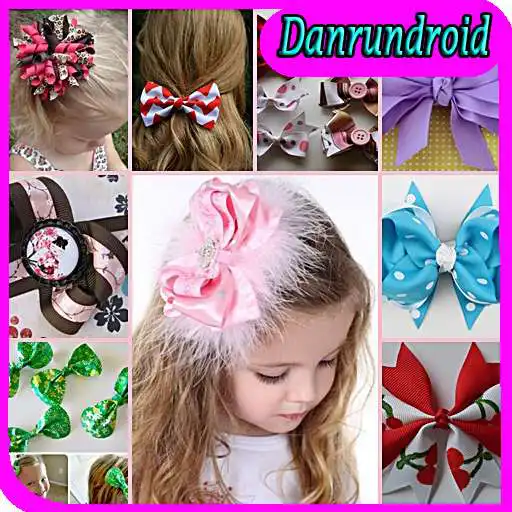 NEW DIY Hair Bow Tutorial
The official app &amp game
Distributed by UptoPlay
SCREENSHOTS
DESCRIPTION
Use UptoPlay to play online the game NEW DIY Hair Bow Tutorial.
The inspiration of DIY Hair Bow Ideas. In this application will get some pictures about how to make hair bow. There are some step by step tutorials to make DIY bow. So, it is time to shine and make it right. Nothing brightens up a hairdo like a cute bow.

Hair bows come in every color imaginable on headbands, scarves, clips, and ponytail holders. They can be worn in a multitude of hairstyles. Although bows are especially popular with little girls, the hair bow is equally capable of growing up, and can add sophisticated flair to adult looks.

You really can learn how to make hair bows for little girls. It's not as difficult or daunting as you may think. Here you'll find hair bow directions for making a basic bow, an instructional photos for making hair bows for little girls, a sign up form to receive a free video bow making lesson, and a link to my favorite complete how to make hair bows for little girls DVD course.

The Ideas that we present in this application such as :

-\tChildren Bows
Little girls love wearing hair bows, and bows for kids come on different hair accessories that work for different ages. For infants, try a regular or elastic headband with a bow attached. The bow can be worn on top of the baby's head (this looks ridiculous on adults, but endearing on babies) or tilted to either side, an inch or so above the ear. Headbands keep the bow from slipping off, and are perfect for babies with fine or nonexistent hair.
For messy toddlers, hair bows attached to small clips are perfect for keeping hair out of their faces. Swoop their bangs to one side and clip, or gather their hair into two mini pigtails and fasten with matching bows.
Little girls with longer hair will look adorable with hair bows at the end of their braids. You can use clip-on bows, or simply tie the end of the braid with a ribbon. Big bows are sweet for ponytails, or for holding hair half up.

-\tDIY bows
If you don't want to spend a lot of money on hair bows, and regular ribbon doesn't satisfy your hairdo needs, you can make your own with a few simple craft supplies. You'll need some type of hairpiece, ponytail holder, or clip, which you can find at craft stores (if using a traditional barrette-spring clip, remove the tension-spring piece from the bottom of the barrette, and replace after you've glued on the bow). You'll also need ribbon, a hot glue gun, and some craft wire.
Make a bow with your ribbon. You can tie a traditional bow, as if you were tying your shoelaces, or make a more complicated style with extra loops (directions for a gorgeous three-loop bow can be found under References). Pinch the center of the bow, and wrap craft wire around it to keep it in place. This gives the bow a great shape.

-\tHair Bow for Teenage
Hair bows aren't just for kids any more -- they've been spotted on designer runways, celebrities, and fashionistas everywhere. Adult bows are more versatile than children's, and can be worn for a number of different looks.
Don't shy away from being girlish. Small pink bows are completely appropriate for adults, as long as your hairstyle doesn't scream cheerleader. Polka-dot bows are also cute, especially for the summer. Just make sure your outfit complements the accessory. This may not be the time for your powerhouse business suit. Keep your hair casual: loose, curly hair looks amazing with one or two small bows.

Bigger bows are great for statement-making up-dos. Big bows in darker colors are glamorous and dramatic, rather than girlish. Wear one on a thin headband, set slightly back on your head. Use a bigger headband or scarf to wrap around your up-do. Clip a bow to the side of the up-do itself. Or pull your hair back into a loose ponytail and tie with a huge ribbon.
Download and Enjoy!!!!!
.
Enjoy with UptoPlay the online game NEW DIY Hair Bow Tutorial.
Page navigation: