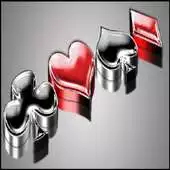 Magic Card Tricks
The official app &amp game
Distributed by UptoPlay
SCREENSHOTS
DESCRIPTION
Play this online game named Magic Card Tricks.
Become an Amazing Magician! Magic Card Tricks will show you how to do easy yet impressive magic tricks with playing cards. You will learn everything from sleight of hand to misdirection.
Magic Card Tricks will teach several easy magic tricks that anyone can learn and perform for their friends. Many of the tricks require no complicated sleight-of-hand and all the tricks have clear, step-by-step instructions so you may quickly learn the tricks and perform them for your friends..
A little practice will help you to perform cool and easy magic tricks. Learn magician misdirection sleights and have fun as you discover magic secrets and handling skills revealed to help impress and entertain your audience every time.
This app is full of tips and hints to help you become a successful magician. You will lean to performing magic tricks that are easy, yet unbelievable.
Updates:
Added new code to make the app run smother.
Magic Card Tricks from UptoPlay.net
Page navigation: