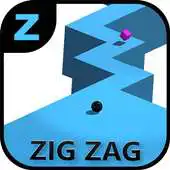 Infinite ZigZag Ball Survival
The official app &amp game
Distributed by UptoPlay
SCREENSHOTS
DESCRIPTION
Play this online game named Infinite ZigZag Ball Survival.
Follow the ZigZag Run path. Stay on the path and zigzag as long as you can! ZigZag Ball Survival Run is a fun and addictive endless game. React quickly and challenge yourself! Be careful not to fall! ZigZags is an awesome game of skill, where you have to keep the ball on the track and perform as many zigzags as you can! Just tap the screen to change direction of ball, and try not fall of the edges! The game will keep you immersed for hours as you try to tackle the zigzag wall path to keep the ball moving on the endless track.
This game is all about lightning zag reflexes and perfect timing. While you zig zag your way down the path, you can change the direction with one simple tap or click. Be careful not to fall off the edges as your journey is getting faster and faster. But fear not! The farther you advance and the more power ups you collect along your zig zag path, the better you are able to unlock and use. How far can you go in the incredibly addictive game?
►► How to Play
- Tap to change direction One tap for forward direction and another tap for right direction.
- Stay on path.
Features:
★ Awesome graphics.
★ A good gameplay.
★ Challenges.
★ Progressive game difficulty.
★ Easy to learn and play.
★ Smooth game play.
★ Very addictive and fun game.
Updates:
Infinite ZigZag Ball Survival from UptoPlay.net
Page navigation: