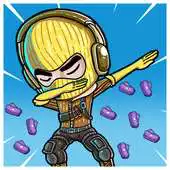 Idle Royale
The official app &amp game
Distributed by UptoPlay
SCREENSHOTS
DESCRIPTION
Play this online game named Idle Royale.
Collect over 400 epic weapons, merge to collect, discover and 
upgrade to maximize your idle profit!
Get ready to move weapons and create your own Battle-Royal Weapon Collection! Download Idle Royale Tycoon - Incremental Merge Battle Game, one of the best Merge based sliding block puzzle game available on Google Play.
Do you love to play a 4 x 4 puzzle game but tired of math and numbers? Are you looking for an Battle-Royal puzzle game for your Android device? Search no further! Idle Royale Tycoon - Incremental Merge Battle Game place for you to play and compete with your friends.
"Weapon Merge" is a unique concept of weapon building based on the classic Match 2 3 game-play. Rather than planning, you drag and drop the weapon tiles to merge Rocket Launcher, Ak47, V-coins and epic gliders in order to create larger inventory and increase the population of your Battle-Royal Idle Merge Game. The objective of this  puzzle game is to build a Weapon Inventory as large as possible and unlock many different Weapons and secret Skins and Rarity. 
How to Play:
Our Idle Royale Tycoon - Incremental Merge Battle Game Weapons strategy game is very easy to play. Just drag and drop similar Weapons tiles together to involve them. When two Weapons with the same Number touch they will merge into one. Simple to learn but hard to master.
Idle Royale Tycoon - Incremental Merge Battle Game Weapons is an easy to play, hard to master merge town game for your Android device. Both kids and adult can equally enjoy building a quite new Battle-Royal experience in this Idle Game and convert their free time into fun time.
This Idle Royal - Merge & Collect Battle Weapons sliding block puzzle game is specially designed for the people who love to play Battle-Royal games.
A crazy mix with familiar epic weapon skins and idle game mode!
Have fun!
It's time to build and grow your own Idle Weapon inventory!
And compete with your friends :)
Updates:
IDLE ROYALE update 1.27 is ready to play!
- Added Bundles with a huuuuge discount!
Check them out and tell us what you think :)
- Fixed a bug where a weapon can stuck together.
- Improved tutorial for new users.
- Replaced new Weapons skins for bonze/silver/gold.
We are working on:
Weapon Upgrades ,new Upgrades, new Pinata cards , Cloud-Save, Diamond Skins
if you found a bug please report in settings/Mail. 
Have fun with the update.
Keep playing, next update will follow soon!
Idle Royale from UptoPlay.net
Page navigation: