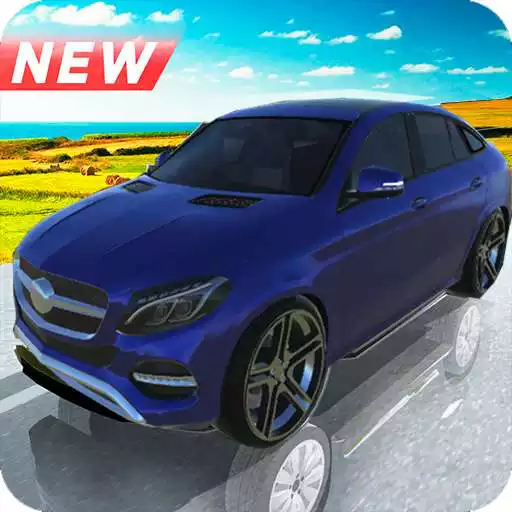 GLE 350 Mercedes
The official app &amp game
Distributed by UptoPlay
SCREENSHOTS
DESCRIPTION
Use UptoPlay to play online the game GLE 350 Mercedes - Benz Suv Driving Simulator Game.
Off-road gle mercedes Car Simulator is a real physics engine racing game and simulator and Drift Mode

This business and popular luxury driving mercedes simulator ensures realistic car damage and accurate driving physics. A free app lets you drive an super vehicle and even drift.

Set up a race according to your own rules! Turn on the music and let's go!!!!



*** GAME FEATURES ***
- This exciting and dynamic game is sure to bring you hours of fun.
- Richly detailed off-road car.
- You get realistic acceleration.
- First-person and third-person modes.
- Many of the components inside the car are interactive.
- Car damage is extremely realistic.
- It's very simple to select a drive mode.
- Plenty of camera settings.
- Accurate physics.
- Great graphics.

Game in Car Lists,
Mercedes Gle
Cadillac Escalade
Volvo XC90

TIPS.
1. Do not accelerate while cornering!
2. Use the camera settings to choose the most convenient view for driving.
3. Pay attention to the interactive hints.
4. Don't forget to fill up your car with gas at the gas station.
5. For your convenience, please keep the doors locked when driving.

Aded Cars

Follow us! Keep for updates. Expected more interesting!
Tell us your wishes for new features and comments about the game.

Download and play SUV PROJECT GAMES! And enjoy yourself!

And Your Soon Aded Car Lists,
GLE 250 d
GLE 300 d
GLE 350 d
EQC 400
GL 320 CDI
GL 350 CDI
GL 420 CDI
GL 450
GLA 45 AMG
GLA 180 CDI
GLA 200
GLA 250
GLC 220d AMG
GLC 250
GLK 220
GLK 250
GLK 320
GLK 350
GLS 350 D
G 55 AMG
G 63
G 65
G 240
G 270
G 280 GE
G 290 GD
G 300
G 320
G 350
G 400
G 500
ML 55 AMG
ML 63 AMG
ML 250
ML 270
ML 280
ML 320
ML 350
ML 400
ML 430
ML 500
X

More Games Url : https://play.google.com/store/apps/developer?id=SUV+OffRoad
Enjoy with UptoPlay the online game GLE 350 Mercedes - Benz Suv Driving Simulator Game.
ADDITIONAL INFORMATION
Developer: SUV OffRoad
Genre: Simulation
App version: 1
App size: 68M
Comments:
This game is the wosrt game i ever played graphics are not even good do not play online it is a waste of data
This game is very good I love it
Sumit Singh car Geetax snana sbxna xbznsznx. Snaz. ❤️❤️:,-);):,-)znsnaxnanxbnsnsbsx z xbxnznznznznzbzbzbzbzbznzbzbz zzbnznznznzznnzxnnzzbzbzbxnbznxbxbxxbxbxbxnbbbbzbzbsbzbsbzbzbzbzbzbzbz Zznsnsnnzznznznznznznznznznznznznznznbzznznnzznnzznznznznznznznznznznznnzznznznzzbznznznznznznznznzbznzznnzznxbbzbxbxxbbzxbxbxbxbxbxbxxnsjjzsjxnbxbx zznnzxnxnxnxnxnxnxnnxxnxbxnxnxnxnxbxbxbxbxbbxbxxbxbxbxbxbxbxbxbxbbdnxnxnxxnjxdjxndndnx nxmxmznxxmnxnxnxnxnxndndnxnxnxnxnxmxmxnxnxnxnxnxnxxnnxnxxnxnxxnnxnxnxnxnx nxn
Nice game I won't delete ever
it is so bad'
Page navigation: