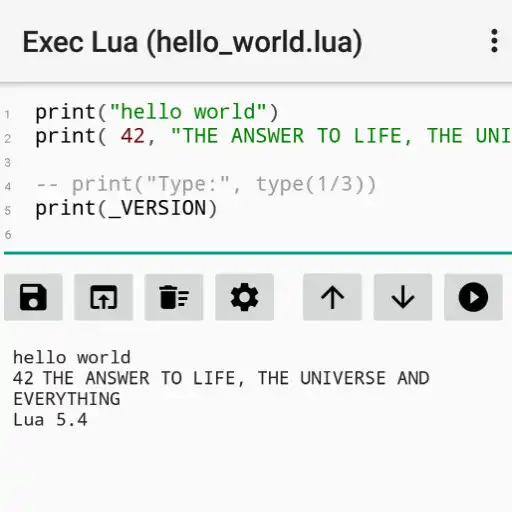 Exec Lua
The official app &amp game
Distributed by UptoPlay
SCREENSHOTS
DESCRIPTION
Use UptoPlay to play online the game Exec Lua.
This app is a development environment for the scripting language Lua for Android. You can develop, run and manage Lua scripts.
The Lua scripts are executed by the Lua Script Engine 5.4.1.

Features:
- code execution
- syntax highlighting
- line numbering
- Input form
- save/open file
- http client (GET, POST, PUT, HEAD, OAUTH2, etc).
- mqtt client (publish/subscribe)

Android specific functions:
Open input form:
x = app.inputForm(title)
Open input form with a default value:
x = app.inputForm(title, default)
Show a pop up notification message:
x = app.toast(message)
HTTP request:
statuscode, content = app.httprequest(request)
OAuth2 support:
Browser flow.
MQTT support:
mqtt.connect(options)
mqtt.onMqttMessage(onMessage)
mqtt.subscribe(topic, qos)
mqtt.publish(topic, payload, qos, retained)
mqtt.disconnect()

Many sample files are included.
Enjoy with UptoPlay the online game Exec Lua.
ADDITIONAL INFORMATION
Developer: Michael Lauer
Recent changes: Support http cookies and disable keyboard in output window.
Page navigation: