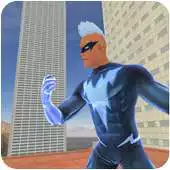 Energy Joe
The official app &amp game
Distributed by UptoPlay
SCREENSHOTS
DESCRIPTION
Play this online game named Energy Joe.
• Try yourself as the live wire man and save your City from gangsterism!
• Open world and realistic physics. Charge up and rush!
• Own base with garage, arsenal and auto park are available too!
• Just carry out tasks, get cash and gain experience!
You became a stun gun after an accident. Voltage jump gave you power, now you need to choose what to do with this energy.
We suggest you use it for a benefit of citizens or something…do you want to be a champion?
Conduct electricity toward your enemies, spray shock wave on the streets like true Zeus! Lighting without thunder!
Steal electricity from streetlight quietly like a real superhero!
Fight, shoot, strike, drive, flash, buy, kill, help or hijack, ride or die…
Shine on anyway!
Updates:
Energy Joe from UptoPlay.net
Page navigation: