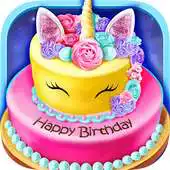 Birthday Cake Design Party
The official app &amp game
Distributed by UptoPlay
SCREENSHOTS
DESCRIPTION
Play this online game named Birthday Cake Design Party.
The most important day of the year is today!
Today is my birthday! I'm going to organize a special birthday party and invite all of my family and friends to come! We can bake and design the coolest birthday cakes at this party! Such as mirror cake, unicorn birthday cake, rainbow shortcake and the hottest strawberry watermelon cake!
Do you want to join my party and enjoy all of these yummy birthday cakes? Come on! Just come with me! Let's having fun together!
Product Features:
-A super fun food-making game
-Make yummy birthday cakes for mirror cake, unicorn birthday cake, rainbow shortcake and strawberry watermelon cake
-Tons of realistic cooking tools to play: flour sieve, spatula, mixer, cake molds, oven, plates, cream mixer, cutting board, knife, normal candles, sparkling candles, lighter, measuring cups, spoons, frosting pen, piping bag and so much more
-Tons of food materials and food decorations to try: milk, salt, yeast, sugar, butter, butter spray, eggs, flour, food coloring, heavy cream, icing sugar, vanilla extract, fruits, rose jam, dry flower petals, water, chocolate syrup, rainbow sprinkles, confectioner sugar, candies and so much more
How to play:
- Use interactive controls to play the game
- Try different tools to make your birthday cakes
- Mix various ingredients to create the unique flavor and color of your foods
- Decorate your foods with beautiful sprinkles, candies, fruits and candles
DOWNLOAD TODAY!
Join our Facebook Page: https://www.facebook.com/pages/Maker-Lab/674940652601869
Follow us on Twitter: https://twitter.com/The_MAKER_LAB
Know more about Maker Labs at our official website: http://www.makerlabs.net/
Important Message for Purchases:
- This App is free to play but certain in-game items may require payment. You may restrict in-app purchases by disabling them on your device.
- By downloading this App you agree to Maker Labs' Privacy Policy at https://www.makerlabs.net/privacy/
- Please consider that this App may include third parties services for limited legally permissible purposes.
Updates:
Bug fixed. Now your game is creepy-crawler free and faster than ever!
Birthday Cake Design Party from UptoPlay.net
Page navigation: