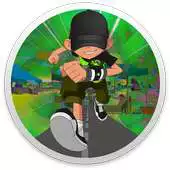 Ben : World Runner
The official app &amp game
Distributed by UptoPlay
SCREENSHOTS
DESCRIPTION
Play this online game named Ben : World Runner.
New 2017 Game Ben : World Runner
Are you crazy fans of ben alien ?
This game : Ben World Tour Runner - Ultimate Alien is an Rscing game in an awesome environment!
Its hero time! Help Ben on a secret mission to save the world.
Use Ben's alien powers and weapons to take down the evil Kenko in a gigantic BEN adventure !
Explore the galaxy and battle tons of bad guys in wrath of psychobos!
Ben go feedpire the mixture of the huge feedback and whampire 10.
So after coming from the far galaxy our hero is in a mission to save humanity.
Players can enjoy as Ben alien ten move through adventure trip to collect as much coins you can.
Transform, battle and fight in Ben Runner -Ultimate Alien.
Play as Ben and unlock his alien powers as he takes on the evils of the galaxy.
Ben fight Universe Alien is an all-new free game where you unleash your favorite aliens from TV series.
As Ben you must use the skills of various alien forms to stop Aggregor and other villains across the galaxy.
This scenario in game you will be controling ben creature to collect omni energy to find another species of alien
This really fun game will be nice for relaxing, with beautiful space scene and many feature will make you love this game
This is a real funny game that children can amuse themselves with in their free time.
So are you able to hit your new score? Then show us what you can do.
Prove yourself as a true a professional gamer. Use your omnitrix skateboard to jump over the zombies.
Power Surge Feature :
- Nice Graphic
- Many alien creature
- Amazing gameplay
- Easy to Play
- Super addicting game for Kid
Updates:
Ben : World Runner from UptoPlay.net
Page navigation: