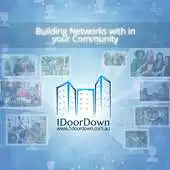 1DoorDown
The official app &amp game
Distributed by UptoPlay
SCREENSHOTS
DESCRIPTION
Play this online game named 1DoorDown.
1DoorDown will allow you to connect, meet and develop relationships within your community.
Maintaining your online anonymity with limited information on your profile, the app has been designed to be a non-intrusive way to connect with people in your neighborhood.
Bringing back the times when you could borrow a cup of sugar from your neighbors.
1DoorDown is creating a network of people with in your local area.
Having a get together or maybe you want some company while watching your favorite team play?
Pop a post in the news page and all users with in the range of your news post will receive the invitation!
you can connect with them (or not connect) the choice is yours.
send them a message from with in the app and connect!
1DoorDown has the following features:
• Local Connection Radar (showing all users with in the set radius & your connections)
• Adjustable Range (100m to 10km)
• News Feed (adjustable post range)
• In App Messaging
Updates:
• Bug Fixes
• New Location System
1DoorDown from UptoPlay.net
Page navigation: