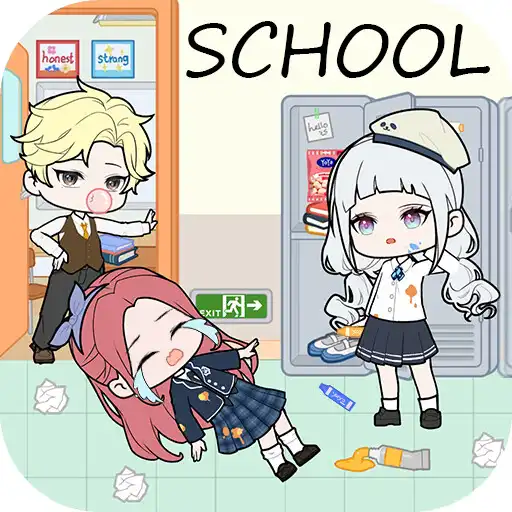 YOYO Doll: School life
The official app &amp game
Distributed by UptoPlay
SCREENSHOTS
DESCRIPTION
Use UptoPlay to play online the game YOYO Doll: School life.
Do you like to play with YOYO Doll-Dress up Games? We specially launch YOYO Doll: School life.
Here, you can dress up yourself every day, choose fashion clothes with various styles and colors, multi-level simulation experience, and enjoy wonderful campus life! Come and become YOYO and let me simulate and experience the beautiful campus life of YOYO!
Players can create a variety of cute characters through personalized clothing matching. The character of each character is under your control. it is your personal super fashion avatar creator & self emoji maker. With the campus scene, you can explore more content on the campus and start a more happy campus story life.

Game Features
According to your needs, choose to dressup boys or girls!
Fresh game screen, rich and interesting gameplay!
Classic two-dimensional campus world dress-up game, a variety of character modeling styles are up to you!
Explore different cute campus scenes and feel the fun open gameplay!
Unleash your imagination and creativity, DIY your own campus plot, and become a talented writer to shine in the audience!

Gameplay
Show your life on campus, express your mood and status.
To go to different scenes, you need to change into suitable cute clothes, teachers wear school uniforms, playgrounds wear sports clothes, etc.
Diversified game scenes, classrooms, playgrounds, gymnasiums, libraries, music rooms, everything, just enjoy!
Make cute friends and talk through simulations, ride your bike around campus, and more
Create and simulate various campus life scenarios according to your own fashion preferences and ideas, let your imagination play! Come and play online and play!

Contact Us
FB Grouphttps://www.facebook.com/groups/152003920448574
[email protected]
Instagram: https://www.instagram.com/yoyo__doll/
TikTok: https://www.tiktok.com/@yoyodoll_official
Youtubehttps://www.youtube.com/channel/UCSAAS6shg37jLQGd4GhqvAA
Enjoy with UptoPlay the online game YOYO Doll: School life.
ADDITIONAL INFORMATION
Developer: YoYo Dress Up Games
Recent changes: Welcome to YOYO's school life, come and experience the beautiful campus life!
Page navigation: