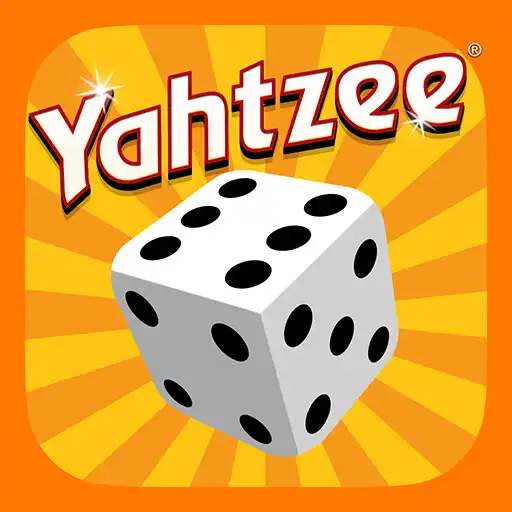 YAHTZEE With Buddies Dice Game
The official app &amp game
Distributed by UptoPlay
SCREENSHOTS
DESCRIPTION
Use UptoPlay to play online the game YAHTZEE With Buddies Dice Game.
Welcome to YAHTZEE with Buddies! Your classic dice game.


Experience your online Yahtzee game like never before. Challenge your friends, enter tournaments and complete missions to earn all new rewards!


The classic dice game is reimagined in YAHTZEE With Buddies. Love board games like Monopoly, Scrabble, Phase 10 and Farkle? Are you a puzzle game fan? Enjoy free games? Is relaxing with some timeless dice fun your vibe? Then youve come to the right place.


Classic & Fun Board Game on the Go
Play the officially licensed mobile version of Hasbro's beloved dice game, anywhere, anytime alone or with your friends.


Download now for 30 free bonus rolls!


Top features:

Play for FREE with your friends around the world
Enter tournaments to fight your way to the top and win the jackpot!
Explore multiple game features that add a fun twist to your Yahtzee gameplay
Join a Yahtzee Family to play with friends or compete against them
Defeat Dice Masters as you climb your way to epic rewards
Chat with fellow players, send stickers and collect card packs!
Join a YAHTZEE family to get help from your friends!
Personalize your gameplay with tons of custom dice, portrait frames and themed game boards!
There you have it. If you like classic dice games, like Rummikub or Uno, youll have a grand time playing Yahtzee with Buddies! Download the FREE Yahtzee with Buddies and you wont be endlessly searching for a dice game any longer.
Defeat the Dice Masters


Completely reinvented single player adventure - take down the Dice Masters and earn amazing custom dice along the way!


Conquer dozens of new levels with brand new boosts and obstacles like ice blocks, flying multipliers and more!


Earn exclusive vanity rewards!


Multiplayer Fun!


Play with friends and family. Create your own family in game to get and give help.


Multiplayer games with random opponents. Play dice games with players around the world.


Explore Yahtzee Survivor to compete real time with hundreds of challengers and win Yahtzees biggest jackpot prize.


Chat and challenge your friends with the new social buddies system!


Invite your friends to join to earn even more rewards!


So many ways to win!


Dice Derby - Place a bet on your horse then roll classic Yahtzee combinations to

move it down the track - the higher the score, the faster your horse runs!

Paint n Roll - Roll Yahtzee combinations to earn paint drops and create your own masterpieces!


Prize Climb Bowling - Its not how you bowl, its how you roll! Aim the bowling ball and roll classic Yahtzee combinations to send it down the lane - the more points you ear, faster your ball will go!


Collections - Collect Stickers, Complete Sets and earn New Dice!


Tournaments
Yahtzee tournaments are a new, thrilling challenge! Yahtzee Solitaire, Yahtzee Bingo, and Yahtzee Stars are completely new ways to play these classic games!
Play through different leagues to win exciting prizes

Game Bonuses - Win in-game scratchers to earn free bonus rolls


Doesn't matter if you call it Yahtzee Frenzy, crag, balut, farkle, kismet, yamb, or generala, theres only one authentic Yahtzee! Roll the dice to find out why millions have played this classic family game for over 50 years!
HASBRO and YAHTZEE names and logos are trademarks of Hasbro. 2020 Hasbro, Pawtucket, RI 02861-1059 USA. All Rights Reserved. TM & denote U.S. Trademarks.
Enjoy with UptoPlay the online game YAHTZEE With Buddies Dice Game.
ADDITIONAL INFORMATION
Developer: Scopely
Recent changes: ALL NEW EVENT
- Tropical Race is our newest Yahtzee with Buddies feature!
- Enter Tropical Race and finish games in any game mode you love to complete goals moving your feathery friend closer to the finish line faster than your opponents.
- As you fly, complete goals to earn rewards.
- Complete all the goals before your opponents, and you can earn even better rewards.
- Start rolling now to see if you're fast enough to fly to the finish line.
Page navigation: