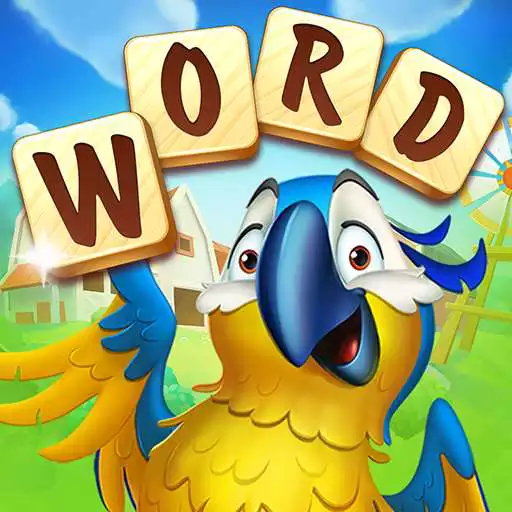 Word Farm Adventure: Word Game
The official app &amp game
Distributed by UptoPlay
SCREENSHOTS
DESCRIPTION
Use UptoPlay to play online the game Word Farm Adventure: Word Game.
Save the farm animals on this Free word scrabble puzzle game!

In our new challenging and super fun word game for adults and kids, you will word swipe your way into becoming the beloved hero of the farm.

Word Farm Adventure is not just about solving crossword puzzles for free - it is also about enjoying a great story while fighting the evil forces that want to destroy the farm.

So lets get going, fast - the animals need you at your best!

In this free challenging word game, you will:

Solve Word Puzzles!
Solve crossword puzzles, word find challenges, word scramble missions, word swipe scrabble quests, and more challenges for your brain.

Become the Farm's Hero!
Unveil the story of Perry the Parrot, Rex the Dog, and the other farm heroes on their adventure in this awesome word puzzle game!

Renovate and Design!
Fix, build, paint and design your farm just like on other games - but with a twist

Solve Wordle puzzles
Play Wordle puzzles! and come back for a new challenge.
Guess a word and use the tile colors to guide your next decision. You get up to get six attempts to guess the correct word.

Game Highlights

It's time to skip those ordinary scrabble games and crossword puzzles. Join us on the farm! The Word Farm Adventure game offers so much more than a word search!

To solve each level, you need to complete a word puzzle by connecting the letters and spelling words that fit perfectly into the crossword puzzle blocks.

After you solve each puzzle of words, you'll be rewarded with coins and shovels to help you complete missions and restore the farm to its glory days. Once you help the animals rebuild the farm and prove to uncle Jeff that it's worth saving, you'll venture on to the county fair.

Long ago, the animals built the fair to prove to uncle Jeff that the farm could turn a profit. The fair was once a place filled with fun and laughter, but it's been neglected. It's up to you to redesign and renovate the fairgrounds so everyone can come back and enjoy the atmosphere.

Now, like any farm, there's always more work to be done! The once extravagant farmhouse is in complete disrepair, but it doesn't have to stay that way. Keep solving word puzzles and earning shovels so you can redesign the farmhouse and make it beautiful again! Continue playing and youll keep discovering more of the story and additional areas of the farm that need your help.

Every level of this exciting free word game is more challenging than the last so get ready for hours of fun with your new farm animal friends.

If you're ever having trouble solving a word puzzle, tap on the fireworks or hammer to reveal puzzle letters, or blast away an entire word with dynamite. Don't forget that the magic wand is also only a tap away.

Visit the farm for daily puzzles. Don't miss out on each month's special event because you'll never experience the same one twice! This brings a whole new challenge to puzzle word games!

If you enjoy word search games, crossword puzzles, or scrabble, you'll love playing Word Farm Adventure.

Download and play our word game today!

--

Word Farm Adventure is free to play, though some in-game items can also be purchased for real money. If you don't want to use this option, simply turn it off in your device's Restrictions menu.

More content coming in each update
The farm needs a hero, and you are that hero. So join our puzzle adventure now, and get ready to save the farm!

Questions? Contact our Tech Support by sending an email to:
[email protected]

Want to enjoy exclusive bonuses, meet other word puzzle enthusiasts, and dive deeper into the Van Der Farm story? Lets connect!
Enjoy with UptoPlay the online game Word Farm Adventure: Word Game.
ADDITIONAL INFORMATION
Developer: Brain Games Ltd.
Recent changes: Bug fixes & game improvements, enjoy!
Page navigation: