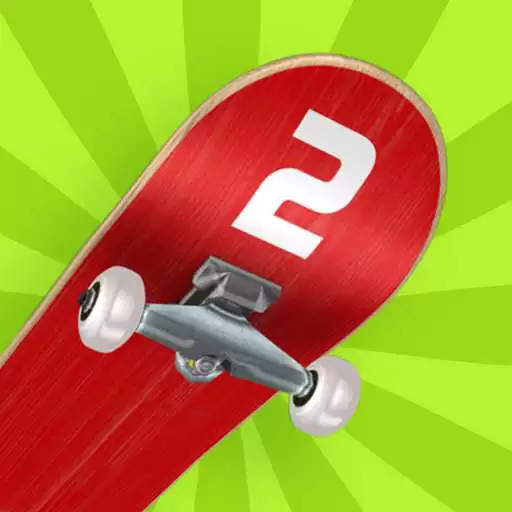 Touchgrind Skate 2
The official app &amp game
Distributed by UptoPlay
SCREENSHOTS
DESCRIPTION
Use UptoPlay to play online the game Touchgrind Skate 2.
Touchgrind Skate 2 blossoms into a world of enjoyment [..] Illusion Labs does it again! - TouchArcade

Just like in real skateboarding or fingerboarding, Touchgrind Skate 2 is a game of skill that takes 10 minutes to understand but a lifetime to master. Learn the tricks, complete challenges, and unlock new skateboard parts.

Get the highest score in time-limited Competition mode, rip freely and complete challenges in Jam Session mode.

True innovative finger controls together with real physics simulation let you pull off tricks like ollies, pop shuvits, kickflips, heelflips, impossibles, powerslides, lip tricks, stalls, drops, 5-0s, 50-50s, crooks, tailslides, bluntslides, darkslides etc in endless combinations, or why not do them in nollie, fakie or switch? - Only your skill and imagination set the limit!

Get a maximized experience with a real skateboarding feeling - Skate like in real life on your device!

*** Important for Huawei users! Please disable HiTouch to avoid annoying popups! You can turn it off in Settings -> Smart Assistance -> HiTouch -> OFF ***

FEATURES
- Realistic physics and stunning 3D graphics
- 3 free roam game modes: Training, Competition, Jam Session.
- Tutorial videos - watch and try yourself!
- Natural multi-touch controls, evolved from Touchgrind and Touchgrind BMX
- Tilted camera view, similar to Touchgrind BMX
- Three different skateparks with bowls, ramps, curbs, boxes and over 2.000 meters of rails
- Complete the 100 challenges to unlock decks, wheels, grip tapes and stickers
- True skating experience
- Trick name detection

Note: Touchgrind Skate 2 comes with a single skate park and contains additional content only available by In-App purchase.

Follow @illusionlabs on Twitter
Like us at www.facebook.com/illusionlabs1
Enjoy with UptoPlay the online game Touchgrind Skate 2.
ADDITIONAL INFORMATION
Developer: Illusion Labs
Genre: Sports
App version: 1.6.1
App size: 331M
Recent changes: - New Skate Park: The Office
- New special boards.
Comments:
Love the game and always play online it every new phone i get only. Ive basically completed the game each time and lose all progress when i get a new phone. Not only that im expected to buy things i already had unlocked previously. Now i play a game that i used to have everything but not itll cost much money to get it all back. No thanks ill continue to play for free and downgrade my star rating again if it turns out next time i get a new phone i have to buy the game just to play.
the only thing to this game is that you have to pay for other boards and other parks other than that is a little bit better than the other ones I have tried just get rid of the buying the new boards and parks and it would be a 5 star game make it like true skate but free
download this game all the time! great fun!! (5+) +++ ★'s to developer's really great job… Though.. .…. .. ↓ → Have been hoping to someday see more added things'"&//o® Possibly eventually see×hear about New‹ '"Touch Grind 3"' ›Game in beginning stages of development to play and be downloading again and again everytime need something fun to do!
Definitely has the replay value of a Triple "A" game, like Skate3 but let your fingers do the talking. Unique map theme structures alongside some wicked grip tape and decks( board features you can unlock during gameplay [MAPS IN PURCHASE
Page navigation: