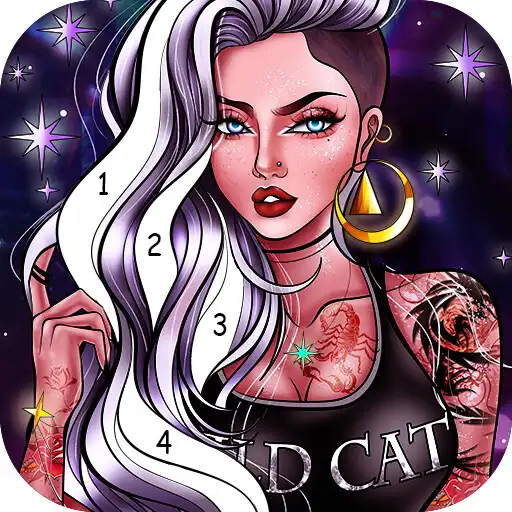 Tattoo Special Coloring games
The official app &amp game
Distributed by UptoPlay
SCREENSHOTS
DESCRIPTION
Use UptoPlay to play online the game Tattoo Special Coloring games.
Tattoo Coloring Book, also known as painted by number, coloring by number, is an online color painting game. Just like your mobile coloring book, you can create the painting.

There are many styles of tattoos here, such as: GangsterOld SchoolNew School, Tattoo coloring books can be an excellent way to blow away your stress!

The tattoo coloring book has tons of free coloring pages so you can create your artwork as many times as you want.

Very fun Tattoo coloring book! Digital coloring book! Allows you to draw and color in natural form, using digital coloring panels, allowing you to experience the same as painting, drawing, and coloring on paper or in a book.

Download and discover many free coloring pages to create your Tattoo artwork! Free coloring books! Offline coloring books!

If you don't know much about painting?
No worries! The Tattoo Coloring Book has numbered color blocks for each picture to indicate the area to draw, and each area has a color to use that works with the numbered blocks.
Tattoo coloring book, the fun coloring book, follow the numbers, coloring books have never been easier!

A tattoo coloring book allows you to choose the pictures you need, and we offer a large selection of free pictures.
Follow the digital color blocks to color and create your favorite artwork.

Tattoo coloring book features:
- Tattoo coloring book, easily color the Tattoo pages by number and complete the painting step by step.
- Tattoo coloring book, no pencil, and paper, no special skills required.
- Tattoo coloring book, offline coloring book, color pictures whenever and wherever you want.
- Tattoo coloring book, frequently updated with lots of new pictures.
- Tattoo coloring book, share your creations on all major social networks.

You'll love our Tattoo coloring games!
Enjoy with UptoPlay the online game Tattoo Special Coloring games.
ADDITIONAL INFORMATION
Developer: Fun Coloring World
Page navigation: