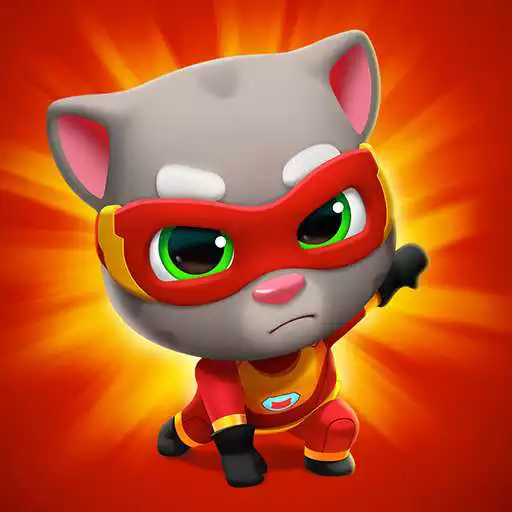 Talking Tom Hero Dash
The official app &amp game
Distributed by UptoPlay
SCREENSHOTS
DESCRIPTION
Use UptoPlay to play online the game Talking Tom Hero Dash.
The race is on.

Talking Tom must run and chase down The Rakoonz and save the day. The Rakoonz have captured Angela, Ben, Hank and Ginger and its up to Tom to save them!

Players jump, dodge and dash their way through lost temples, ancient cities, desert dunes and snowy peaks.

- Awesome gadgets
- Supersonic powers
- Action-packed battles
- Gravity-defying boosters
- Exciting worlds
- New outfits to unlock
- Special missions and events

This endless runner game is guaranteed fun.

From Outfit7, creators of My Talking Tom, My Talking Tom Friends, My Talking Angela, and Talking Tom Gold Run.
This app is certified by PRIVO, an FTC Childrens Online Privacy Protection Act (COPPA) Safe Harbor.

This app contains:
- Promotion of Outfit7's products and advertising;
- Links that direct customers to Outfit7s websites and other apps;
- Personalization of content to encourage users to play the app again;
- YouTube integration to allow users to watch videos of Outfit7's animated characters;
- The option to make in-app purchases;
- Items to purchase (available in different prices) using virtual currency, depending on the players progress; and
- Alternative options to access all functionalities of the app without making any in-app purchases using real money.

Terms of use: http://outfit7.com/eula/
EEA privacy policy: https://outfit7.com/privacy/eea/
US privacy policy: https://outfit7.com/privacy/
Brazil privacy policy: https://outfit7.com/privacy-brazil
Rest of the world privacy policy: https://outfit7.com/privacy/
Customer support: [email protected]
Enjoy with UptoPlay the online game Talking Tom Hero Dash.
ADDITIONAL INFORMATION
Developer: Outfit7 Limited
Genre: Action
App version: 3.2.1.3122
App size: 133M
Recent changes: Bug fixes and minor gameplay improvements.
Comments:
Best endless run android game ever that I've played so far! What makes it great is that you're not only running and dodging obstacles, but you have power ups like the lightning bolt to burst through enemies and obstacles. I also like how you beat up bad guys along the way. The only thing that needs to change is the placing of the upgrade chamber. It takes me away from the action when I go into it.
I really like it, but there are so many glitches/bugs it makes it hard to play. Mainly with special events. Either the events don't show up at all unless you uninstall then reinstall, or while playing special event game crashes and stops responding, resulting in having to uninstall and reinstall. Which is the only reason for a single star rating. Otherwise it's fun,stays interesting goals of repairing the cities, the special events keep it fun when you passed all levels.
I like this game. It's pretty good but could stand to have some improvements. For example, THE ADS ARE ALIVE! Literally everytime I lost in a run comes 30 second ad. Secondly, the skins are great and all but the powers don't match the skin itself. What I mean by power is when you jump and swipe down and then this weird wave thing comes. So if I were to take the Black Skin for Hero Tom when I jump then swipe down the wave thing is still red! Shouldn't it be black since the skin itself is black?
This game is nothing but ads. You dont even have to play the actual game if you're willing to watch ads for the rewards. And don't be fooled by the 'any purchase removes ALL ads forever'. It just removes the banner at the top and the ads that pop up EVERY time you switch screens. ALL the other ads are still there including the 'ad' button on the home screen that you can tap to see ads for other games that are purely ad servers.
I love this game!! It is really fun and really interesting!! I wanted to know if you could add some kind of button pressing sequence at the parts where you punch through the wall or run up it and if you dont press all the buttons in time or something like that, you hit the wall or something. Just a suggestion and keep up the good work!!'
Page navigation: