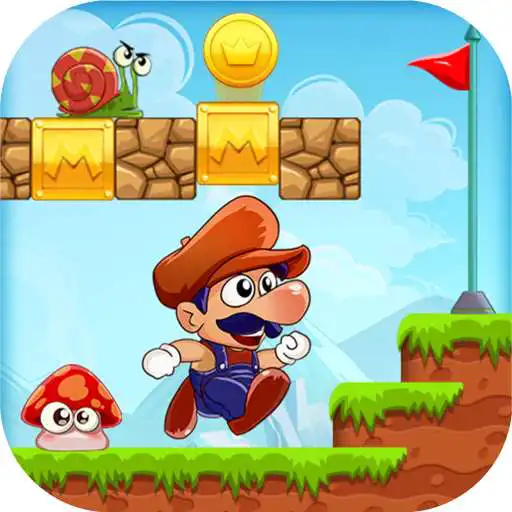 Super Bino Go:Adventure Jungle
The official app &amp game
Distributed by UptoPlay
SCREENSHOTS
DESCRIPTION
Use UptoPlay to play online the game Super Bino Go:Adventure Jungle.
Super Bino Go: New Adventure Jungle 2022 - a totally new old-school running game, will surprise you with the greatest adventure of Mario to Mushroom Kingdom World!
Super Bino Go will lead you to step back in time to your childhood with the Mario game or platform game. Bino's legendary mission is Princess Rescue and your task is helping him run through the mysterious and adventurous islands, jump and run over the obstacles, and fight against super evil monsters to save the beautiful Mushroom Princess at the final destination in a dangerous world.

You can be a Bino, a Mario, a Boppy, a Lep or Bob to save your princess.

Let's have a look at what awaits you in our classic game:
+ 8 Iconic Islands including many types of world level (sky, water, underground, etc.) and 145 levels
+ 7 Fierce Bosses to defeat to move to the next Bob island
+ Cool control like in classic platform games
+ Beautiful high-resolution graphics
+ Smooth user interface
+ Music and sound effects
+ Suitable for both kids & adults
+ Game is no-paid; no purchase required
+ Phone and Tablet support

To pass such difficult levels, you should seek help from 3 types of powerful items that are hidden in bricks or bought by collected coins in this world.
+ Get "Grow-up" to become bigger Bob mario
+ Get "Fire" to throw bomb at the enemies
+ Get "Shield" to protect Bino and Bob in a limited amount of time

Do not hesitate to join one of the most interesting and adventurous jungle adventure ever with Super Bino Go.
Defeat the monsters Break all records And most important: SAVE THE PRINCESS.

Download the best classic arcade game now!!!

Follow us to have more updates and tutorials:
Facebook: https://www.facebook.com/binoadventure/
Youtube: https://www.youtube.com/channel/UCI4B1K1_C8B18U02XAejd5w
Enjoy with UptoPlay the online game Super Bino Go:Adventure Jungle.
ADDITIONAL INFORMATION
Developer: OneSoft Global PTE. LTD.
Recent changes: - Bug fixed
Page navigation: