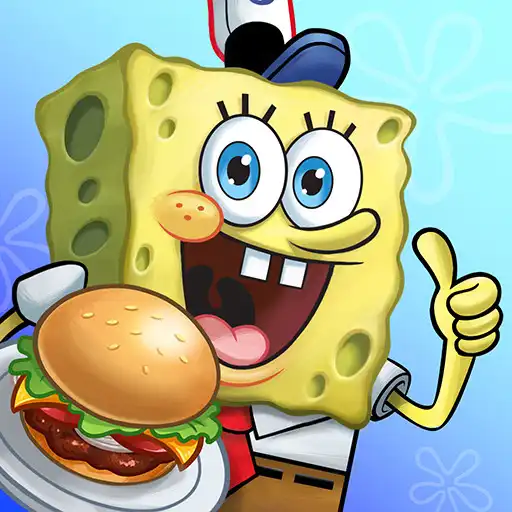 SpongeBob: Krusty Cook-Off
The official app &amp game
Distributed by UptoPlay
SCREENSHOTS
DESCRIPTION
Use UptoPlay to play online the game SpongeBob: Krusty Cook-Off.
Cook delicious food and drinks in this FREE online cooking game! Play with SpongeBob SquarePants in this restaurant simulator game and become a chef in an hilarious adventure across different restaurants.
SpongeBob SquarePants is waiting to prepare your favorite food, burgers, and drinks across the restaurants of Bikini Bottom.

Enjoy creating your own kitchen, decorating and customizing your furniture, improving your cooking chef skills, and getting ready to serve delicious food to your guests in this caf simulation game.

In our familiar restaurant chains the success relies on your time management skills as a chef: Get ready to have fun and fire up the familiar grill to start cooking acrros different levels and restaurants of the amazing SpongeBob universe.

FUN AND FAST-PACED TIME MANAGEMENT GAME
Don't lose the cooking events, boosters and rewards inside this cooking simulator. Speed up in SpongeBob's SquarePants grill and provide fast food to all the series characters like Patrick Star, Sandy Cheeks, Squidward and many more: Play this restaurant simulator by the hand of SpongeBob's friends! Cook your fast food recipes to keep customers happy and get exciting bonuses in this time management challenge. Start as a junior fry cook and train yourself to level up and become a premiere restaurant chef in this SpongeBob caf.

PARTICIPATE IN SPONGEBOB'S SQUAREPANTS RESTAURANT COOK-OFF
Cook delicious Krusty fast food in our addictive cook-off challenge: Burgers, Steaks & Ribs, Hot Dogs, Drinks... Find all type of fast food in our familiar restaurants and new kitchens after each level. Learn new recipes and upgrade your chef and kitchen equipment to cook faster in this caf service simulation. Start out with a basic burger restaurant design until you build the ultimate kitchen of an expert chef!

NEW BURGER RESTAURANTS AND COOKING CHALLENGES ARE ADDED REGULARLY
Choose your favorite cooking utensils, decorations, and food ingredients to add your personal unique touch to the restaurants of SpongeBob SquarePants. Unlock your favorite characters, collect great rewards and bonuses, and prepare the best burgers in town in this SpongeBob SquarePants caf. Upgrade your chef with amazing outfits for the restaurant chefs inspired by the show and get a variety of awesome prizes and events to help you cook in new and delicious ways in our restaurant simulator.

FOOD GAMES WITH HILARIOUS STORYLINE AND FUNNY CHARACTERS
Experience a new variety of cooking skills inside our story based on the TV show, where you will find SpongeBob SquarePants, Mr. Krabs, Squidward, Sandy, and Patrick. Fast Food Games & Events are waiting for you!
Earn awesome rewards and show off your krusty cook-off skills on leaderboards in our awesome cooking simulation. Become a real chef in SpongeBob's burger restaurant with fantastics events and new challenges added every week. Become the master of the kitchen and start cooking now.

AN AMAZING FREE TO PLAY COOKING MANAGEMENT SIMULATOR
This SpongeBob SquarePants game is a free to play cooking simulator that includes optional in-app purchases. You can turn off the payment feature by disabling in-app purchases in your devices settings.

Terms of Use: http://www.tiltingpoint.com/terms-of-service
Privacy Policy: http://www.tiltingpoint.com/privacy-policy
Enjoy with UptoPlay the online game SpongeBob: Krusty Cook-Off.
ADDITIONAL INFORMATION
Developer: Tilting Point
Recent changes: Hey, Fry Cooks! Bring your appetite for adventure to our latest update! Join SpongeBob on an epic culinary cruise and earn amazing rewards with our new and improved Slay The Spice feature! Plus, we've made a ton of bug fixes and behind-the-scenes enhancements - thanks for playing and stay tuned more delicious dishes and fantastic features are on their way!
Page navigation: