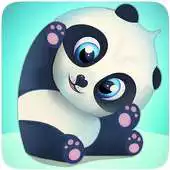 Pu
The official app &amp game
Distributed by UptoPlay
SCREENSHOTS
DESCRIPTION
Play this online game named Pu - Cute giant panda bear, baby pet care game.
Pu is a cute little panda bear who loves to eat, have fun and take selfies. He expects you to feed him, dress him, clean him and take care of him like an animal.
Dozens of activities and exciting mini-games are available to take care of your new baby pet.
Are you ready to take care of your new and adorable virtual pet ?
►
ADOPT PU : Give him a special name and make it evolve to reach his adult size. He is so cute !
► DRESS PU : Make the baby Pu cute and adorable like you ! Dress it up in fashion where to disguise it, create your own look !
► FEED PU : Pu loves the tasty and delicious food, it will feast !
► GIVE A BATH : In order for Pu to be clean and pretty, wash it and dab it.
► PLAY WITH PU : Full of fun mini-games to win coins and make your animal Happy ! But also challenges every day to win diamonds !
► SLEEP TIME : After a happy day, Pu is sleepy, lining it up to make him sleep.
► DECORATE THE HOUSE : The walls, floors, carpet, bathtub and still other elements to make your home unique !

This game is a free virtual animal game created by a small independent developer, a game that caters girls and boys and that I hope you will enjoy.

WHO IS THE GIANT PANDA BEAR?
Pu is an adorable baby pet.
He does not know how to care and take care of himself so he expects you to teach him ! Here are a few tips to make him happy and cheerful: Check that he has always eaten enough and that he is clean !
Pu is very gambler, he does not ask much time, play games a few minutes with him and he will be very happy and affectionate but be careful, after playing well it must be given a bath and bed.
He will then be in good shape and will grow quietly.

If you dream of taking care an animal and looking after a cute virtual baby animal, to see it grow, this game is perfect for you !
Adopt Pu and do in the happiest pets, you have to play !

This game is free but some activities or items described in this game description can be purchased with real money without any obligations.
Updates:
NEW BUNNY COSTUME !
Many bugs fixed.
Thanks to the players for the support !
Pu - Cute giant panda bear, baby pet care game from UptoPlay.net
Page navigation: