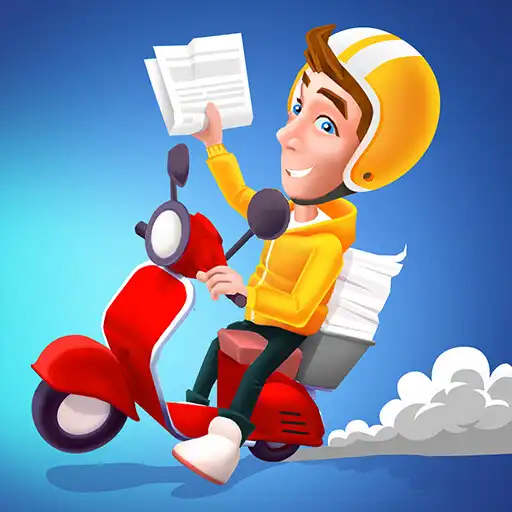 Paper Boy Race: Run Rush 3D
The official app &amp game
Distributed by UptoPlay
SCREENSHOTS
DESCRIPTION
Use UptoPlay to play online the game Paper Boy Race: Run Rush 3D.
This running game is one of the most popular and extremely competitive. It invites you to go level by level to win each race with obstacles and get the title of the fastest delivery man ever! Your goal is to deliver paperswhile driving at crazy speed. So grab your bike and drive ahead! Collect all coins, deliver random stuff, get upgrades, and show the city thugs whos the boss

The game features excellent graphics, solid mechanics, cute characters, and regular content updates. You would never think a player could have so much fun spending hoursthis is a really long running game!simulating the life of an ordinary delivery man. But this is an extraordinary 3d run stimulator that is oddly and undeniably compelling! Its shocking how addictive it isyou wont put your phone aside until papers are delivered, levels are completed, all rewards are gained, and all coins are in your pockets.
In this papers delivery game, you are not just a paperboy you are a furious street racer. Drive as fast as you can, dodging trains and jumping over cars on your motorcycle. Rush through cities at top speed! Do stunts and earn coins to buy new bikes and cool outfits. Try this 3d run game, and we promise youll become hooked on it for hours.

FEATURES:
Fast-paced delivery game Race as fast as you can across streets, from east to west, overcoming an array of city threats, to deliver everything in time!
Extreme race through an obstacle course. Prove your driving skills and feel the sense of satisfaction and discovery after completing new levels!
Lots of unique levels You will be seriously challenged, but you have strong driving skills and the fastest bike to be number one in this fascinating runner game!
Fun race 3d gameplay. So simple and intuitive, this bike racing game will become your favorite time-killer! Play anywhere, anytime to relax and forget all your worries!
Daily missions for a reckless speed racer A true gamer knows no limits. Improve your riding skills to beat your competitors and impress citizens with your speed!
Various vehicles: from an agile skateboard to a powerful motorcycle Try them all and speed upno one likes to wait in a busy city. Win the title of the fastest delivery man and become a bike racing games hero!
City runner games brought to a whole new level

Get ready to take up a risky speed challenge. Download this delivery game now and be the first bike rider to beat all the levels.
Enjoy with UptoPlay the online game Paper Boy Race: Run Rush 3D.
ADDITIONAL INFORMATION
Developer: Funny Games and Apps Studio
Recent changes: Hi there!
Our update is finally here! In this version, we've added:
- General game improvements;
- Game balance update;
- Minor bug fixes for better user experience.
Page navigation: