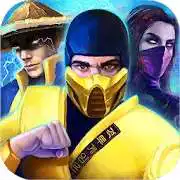 Ninja Games
The official app &amp game
Distributed by UptoPlay
SCREENSHOTS
DESCRIPTION
Play this online game named Ninja Games - Fighting Club Legacy.
NINJA WARRIOR CHALLENGE
The warrior defense of mortal war began! Fighting people like Japanese ninjas and Chinese monks are ready for the new challenge. Plunge into the action-packed fighting adventure of this warrior game with brutal and unforgettable brawlers. Save the world playing as a fighting hero of the mortal age. Like in other warrior battle games you'll have to play as a combat ninja who is fighting for freedom and glory.
FIGHTING KING OF RING
Join the fighting club of warrior legends and battling masters to be an enemy nightmare in epic fight against ninja warriors and Shaolin monks! Make a warrior rush with combo strike in a fighting arena! Roar a battle cry and harden warrior spirit of the soul to get fighting fames of a battle tournament. Brawling with another ninja masters will force you to use tactics of a mortal clash, devastating weapons and battle magic in the fighting challenge.
FIGHTING CHAMPS OF TOURNAMENT
Choose a warrior and fight with rivals to become an unbeatable combatant in this fast-paced action fighting game! Make decisive blow, mortal strike and critical annihilation against every fighting ninja warrior in a fighting list to be the champion of the brutal fighting game!
THE REAL FIGHTING MADNESS
Act like a mortal warrior shadow to defeat all of the opponents on a combat arena. Burst in the fighting fever of combat heroes of the mortal tournament playing as a fighting man or warrior girl. Prove your skills in Chinese warrior vs warrior ninja hero duels and leave a legacy as a combat legend of warrior tales! Show off powerful street fighting skills in the story mode and knockout opponents from your list to fight. Join the battle arena with famous characters and be the most skilled fighting man in a warrior game.
MASTER YOUR SKILLS TO BE HIGHER
Study all the secret fighting techniques in the training mode. Master new combos of melee attacks and sword techniques to crush opponents in the revolution of the best fighting games. Improve and upgrade combat karate skills in the liberal fighting ring. Earn points to get the elite pack of brutal warriors of the fighting club. Upgrade your warrior with special powers to transform him into a real superhero! This groundbreaking fighting game will thrill you by stunning combo hits of ghost fight masters in warrior king battles.
SWORD WARRIOR FIGHT SIMULATOR
Join the club of mortal legends: get close to the fighting edge, pull out samurai blade of a mighty magic sword and participate in the fighting tournament of ninja warrior clan! Be a sword master of ninja fighting game! Transform the fighter utopia into the realm and become the fighting champion playing as a brave warrior! Enjoy ultimate lethal and heavy weapon sounds of ninja warriors and Shaolin fight masters in the battle simulator!
FIGHT LIKE A GOD TO GET FIGHTING GLORY
Stand in front of the enemy fighting list that totally consists of battling masters from various nations. Duel with warrior bots using combo fighting force and unlimited weapon attacks in a mortal battle! Keep fighting in the combat battle challenge to meet the great warrior king. Unlock the fatal warrior duel with the boss and win the valuable fighting cup of a slash arena! Resist demon warrior rage attacks and show him a ninja fighting fury to be the champion of the tournament. Enjoy this revolution of the classic fighting ninja games where you can get the experience of ultimate kung fu fight between the real superheroes.
Updates:
Performance improvement.
UI Improvements.
Ninja Games - Fighting Club Legacy from UptoPlay.net
Page navigation: