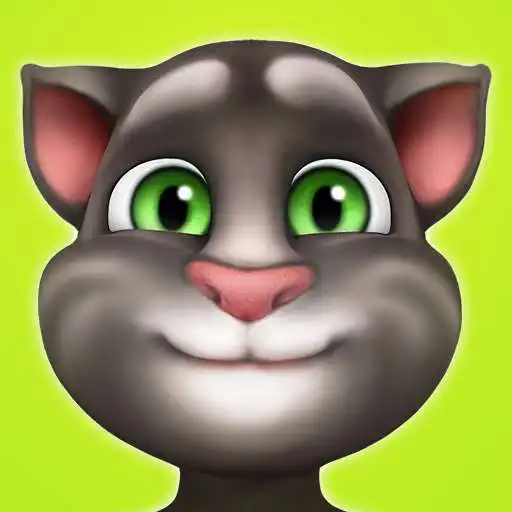 My Talking Tom
The official app &amp game
Distributed by UptoPlay
SCREENSHOTS
DESCRIPTION
Use UptoPlay to play online the game My Talking Tom.
Talking Tom is the cat making every day a fun adventure.

Players adopt this virtual pet, keep him happy and help him explore his world.

- Talking Tom can really talk
- Fashion and furniture items to collect
- Mini games add action, adventure and fun
- Travel destinations are waiting to be explored
- Photo albums to be filled with memories
- And more

From Outfit7, creators of My Talking Tom 2, My Talking Tom Friends, My Talking Angela 2 and My Talking Angela.

This app contains:
- Promotion of Outfit7's products and advertising;
- Links that direct customers to Outfit7s websites and other apps;
- Personalization of content to encourage users to play the app again;
- YouTube integration to allow users to watch videos of Outfit7's animated characters;
- The option to make in-app purchases;
- Subscriptions which automatically renew at the end of a subscription period unless cancelled. You can manage and cancel your subscription any time via Settings in your Google Play account;
- Items to purchase (available in different prices) using virtual currency, depending on the players progress;
- Alternative options to access all functionalities of the app without making any in-app purchases using real money.

Terms of use: http://outfit7.com/eula/
EEA privacy policy: https://outfit7.com/privacy/eea/
US privacy policy: https://outfit7.com/privacy/
Brazil privacy policy: https://outfit7.com/privacy-brazil
Rest of the world privacy policy: https://outfit7.com/privacy/
Customer support: [email protected]
Enjoy with UptoPlay the online game My Talking Tom.
ADDITIONAL INFORMATION
Developer: Outfit7 Limited
Genre: Casual
App version: 6.9.1.1681
App size: 122M
Recent changes: A GOLDEN SURPRISE!
Tap and break to collect awesome food, outfits, and furniture!
Comments:
`I love the game, no lag, but too much ads. Back in like 2014 when I first started to play this, there weren't many ads, now there is. Been playing this for 8 years, the best thing on here is the mini game "Happy Connect" that game... it's just wow. The song for it is amazing, and it's really cool and easy! I will forever love that game, the nostalgia hits me now as soon as I here the song. Ahhh, good times`,
I've gone almost as far as I can. I've bought all that I can except the Diamond outfit and I'm close to getting that. I love the game but you need to ad more items and prizes. I really don't want to go to talking Tom 2 because I would lose all my coins and diamond's. Please update My Talking Tom app tks.
i absolutely love this game I enjoy it alot i always play this game when I'm in the car when theirs no wifi connection and I like the mini games and I like to see around the world and see other Toms I totally suggest you to play online this game if you haven't it's so fun! this game is my childhood <3
This game is very nostalgic, I rememeber playong this back in 2014, and I had a blast. Played it so much, but saldy I got tired of it between 2019. A three year ihatus. But now I deciced to play with the loud mouth cat, and I am enjoying every second of it, thank you Outfit7 for making memories.
This game is amazing And I've been playing it for over. Ten years there's is only a few ads the only con i have for it is the amount of Jem's on one thing but other than that it's a great game and I enjoy"
Page navigation: