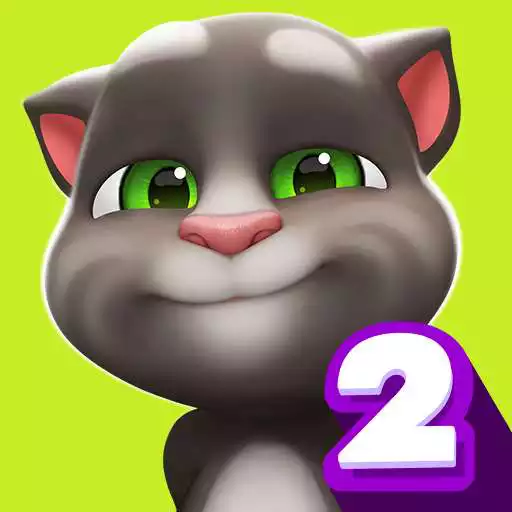 My Talking Tom 2
The official app &amp game
Distributed by UptoPlay
SCREENSHOTS
DESCRIPTION
Use UptoPlay to play online the game My Talking Tom 2.
Its My Talking Tom 2. The superstar virtual pet is back with even more to say and do.

This funny cat cant wait to show off his new wardrobe, skills and special features.

Players interact with their new buddy to help him:
- Learn new skills
- Taste the latest snacks
- Stay clean
- Pop to the toilet
- Explore new worlds
- Collect clothes, furniture and special memories
- Look after his own pets

Plus mini games and puzzles add a special challenge!

By Outfit7, creators of My Talking Tom, My Talking Angela 2 and My Talking Tom Friends.

This app contains:
- Promotion of Outfit7's products and advertising;
- Links that direct customers to Outfit7s websites and other apps;
- Personalization of content to encourage users to play the app again;
- YouTube integration to allow users to watch videos of Outfit7's animated characters;
- The option to make in-app purchases;
- Subscriptions which automatically renew at the end of a subscription period unless cancelled. You can manage and cancel your subscription any time via Settings in your Google Play account;
- Items to purchase (available in different prices) using virtual currency, depending on the players progress;
- Alternative options to access all functionalities of the app without making any in-app purchases using real money.

Terms of use: http://outfit7.com/eula/
EEA privacy policy: https://outfit7.com/privacy/eea/
US privacy policy: https://outfit7.com/privacy/
Brazil privacy policy: https://outfit7.com/privacy-brazil
Rest of the world privacy policy: https://outfit7.com/privacy/
Customer support: [email protected]
Enjoy with UptoPlay the online game My Talking Tom 2.
ADDITIONAL INFORMATION
Developer: Outfit7 Limited
Genre: Casual
App version: 3.1.3.2167
App size: 127M
Recent changes: WINTER WONDERLAND
A fresh blanket of snow has fallen in time for the Dragon Festival. Enjoy the celebrations!
Comments:
A good app for entertaining little ones when the parents do their work around the house. This app teaches little ones how to take care of themselves. When my daughter started playing this she wasn't very good at washing her hands or brushing her teeth but now she asked me if she can brush her teeth with Tom the cat. And it warms my heart when she says that. I have a baby on the way so I can't wait to see her teach her baby brother how to brush his teeth or wash his hands. Children are a blessing
`Daughter loves it but it exploits children. Adds are manipulative. They don't usually have an "X" to get out of it and children get very fustrated. Not worth it.`,
The fact that this can be a child approved game to play online for my 4 year old and it has ads for door dash, which she installed because she didn't understand, is really astonishing. This shouldn't be allowed.
I was having such a great time with my cute little virtual pet but my phone was having difficulty so I uninstalled and tried to install on my tablet. Unfortunately it didn't give me the option to continue the game as other games have
I love it the cat is so so cute it's easy taking care of him he plays on a trampoline and a drum set and boxing video games and you can dress him up play online this game its so fun and cute and you can unlock pets like a robot or a unicorn and a pet with glasses and a normal pet play online this game its super fun and you can buy stuff get the game"
Page navigation: