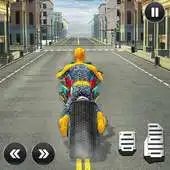 Moto Spider Traffic Hero
The official app &amp game
Distributed by UptoPlay
SCREENSHOTS
DESCRIPTION
Play this online game named Moto Spider Traffic Hero.
Love playing spider traffic hero games? Lead the world of traffic bike games in this outstanding amalgamation of hero games with motorbike games. Drive your spider traffic hero bike through traffic as a charismatic fearless traffic rider in this vertex of moto stunt traffic driving games.
Pursue your zest with charisma, be the strange moto hero you always wanted to be and chase enemy throughout the city streets to finish them in this amazing introduction to super spider games. Search terrorists among contemporaries who are on the urge to destroy beautiful historic buildings of this prestigious city, these gangsters are looting local banks and common man of this great city need help from your spider rider in this finest of super spider bike hero games.
Be cautious of enemy firing, maintain enough distance to keep your spider traffic hero out of danger. Avail the chance of becoming an ultimate stunt man driver through, you will have a fully loaded automatic machine gun with you at all times, shoot enemies in this maverick presentation of motorcycle spider shooting games. Driving through heavy traffic at high speed can result in collision so you need to show full control with adroitness of your state of the art bike traffic racer. Speed is what you need to achieve in this paramount of bike games, furnish bike racing skills to dodge traffic as a professional motorcycle traffic rider on a gigantic boulevard. Floor the throttle, keep your mind alert and perform extreme bike stunts to dodge enemy fire as these gangsters are professional shooters, there is no respite. Chase enemy with agility as an irate expert traffic racer in this marvelous traffic bike game which is the best choice for the fans of traffic fever driving games. So grab this finest of motorcycle stunt racing traffic games and enjoy unlimited amazing acts of stunts of an unseen hi-tech motorbike unlike typical bike superhero games.
***Gameplay Features***
 Numerous levels for fanatics of nimble motorcycle racing games and super spider games.
 Awesome 3D environment specially designed to be in sync with the theme of maverick
moto racing games.
 Impressive and intuitive on screen controls for overdose of spider rider bike games and racing highway games to play with friends in.
 Playable on multiple devices.
 Absolutely amazing sound track for fans of bike raceing games and super moto games.
Folks! Our remarkable innovation of super spider boulevard racing in this vertex motorbike games presents a unique concept to relish super spider bike game refreshingly presented inside motorcycle game. Download this free "MOTO SPIDER TRAFFIC HERO: MOTO BIKE RACING", become a champion and enjoy every bit of this ploy, moto traffic racer.
This is your one and only chance to living your dream as a moto racing rider. Become a super spider rescue hero and be the savior of the city from outside threat while you rush through traffic on your racer motorbike and shoot the enemy cars with special ballistic missiles. Destroy enemy vehicles and make the city proud with your insane bike driving and machine gun firing skills in this xtreme of moto stunt driving games and super hero bike racing games.
Updates:
Minor Fixes
Moto Spider Traffic Hero from UptoPlay.net
Page navigation: