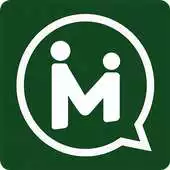 Meelan
The official app &amp game
Distributed by UptoPlay
SCREENSHOTS
DESCRIPTION
Play this online game named Meelan.
Meelan is the first social media app designed for the Pakistani people. Free to use, more private and with the freedom to do whatever you desire. Connect with friends & family or get acquainted to strangers. Control how you choose to use the app. 

*WHAT'S NEW*
Thank you for using Meelan! The wait is over! You asked, we listened. Meelan is back with a HUGE and IMPROVED update just as you wanted it! We are excited to share the new update with you and hope that you will absolutely love it. Thank you to our users for giving us feedback and for reporting problems. We work night and day to make Meelan better for you. The new update comes with a lot of bugs fixes and improvement to give a user friendly and seamless experience every time you use Meelan. Thank you for the tremendous love and continuous support.
For a detailed info on what's included in the update, please see below.
Added features:
• All new video interface for an uninterrupted experience.
• Add your favourite music/dialogues to your videos now. Browse from thousands in library or add your own.
• Now you can keep a collection of your favourite videos, pictures and music to view them easily whenever you want to.
• GAMES! Now you can play games in the Meelan app. Challenge your friends and try
making a top score!
• Now you can have your private account and can share moments only with the people
you want.
• You can create a collection of your favourite videos and pictures for later watch.
• Feeling bored... Not anymore! Meelan has added a feature which will find you people
whose online and interested in chatting.
• Now #Hashtags are active and you can find the related stuff by just following the
hashtag.
Features
• Filters: Amazing fun filters with facial recognition

• Photo: Post up to 9 photos in one go. Also features full image option for those who want the best quality uploads. Or take a selfie with our fun filters

• Video: Create short videos with filters and share it.
• Free audio & video calling: Call anywhere for free

How to register with Meelan

1. By using your mobile phone number

2. Using your Facebook account

3. Using your Google account

Enjoy a seamless user experience. 
If you like Meelan, please share it with your family and friends.
Thank you for using Meelan! We regularly update our app to make it better for you.
If you have any questions or suggestions, feel free to contact us on:
[email protected]
Updates:
Introducing Diamonds: New way of expressing your love!
1. Claim FREE reward diamond daily when you use Meelan.
2. Super like a video? Why not send a diamond to stand out and show the user some love!
Meelan from UptoPlay.net
Page navigation: