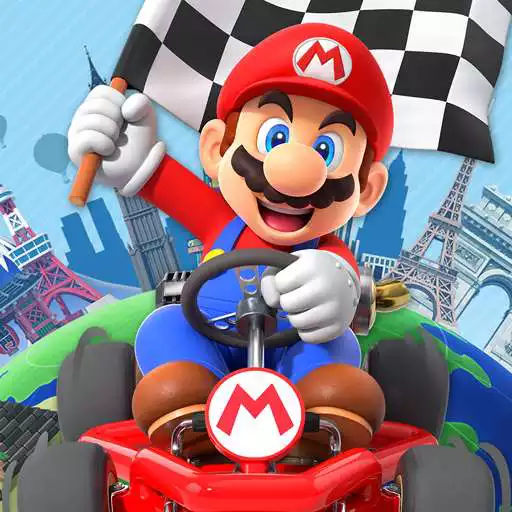 Mario Kart Tour
The official app &amp game
Distributed by UptoPlay
SCREENSHOTS
DESCRIPTION
Use UptoPlay to play online the game Mario Kart Tour.
Challenge players worldwide in multiplayer!
You can race against up to seven other players, whether they're registered as in-game friends, nearby, or scattered around the world.

Multiplayer races can be customized with a variety of rules, such as individual or team races, kart speed, and number of item slots. You can play however you want!

Mario Kart takes a world tour!
Mario and friends go global in this new Mario Kart as they race around courses inspired by real-world cities in addition to classic Mario Kart courses! These destinations will be featured in tours that rotate every two weeks! In addition to courses based on iconic locales, some of your favorite Mario Kart characters will get variations that incorporate the local flavor of cities featured in the game!

Endless Mario Kart fun at your fingertips!
The Mario Kart series known and loved by many is ready to take the world by storm one smart device at a time! With just one finger, you can steer and drift with ease and sling devastating items as you go for the gold in cups filled with new and classic Mario Kart courses.

Nab 1st place with items and Frenzy mode!
In Mario Kart Tour you have access to an arsenal of powerful items that can mix things up on the racetrack! Turn up the heat by activating the new Frenzy mode, which gives an unlimited supply of a certain item and makes you invincible! Make the most of the ensuing chaos, as Frenzy mode only lasts a short time!

Collect drivers, karts, badges, and more!
Earn Grand Stars by racing or fire off the featured pipe to receive more drivers, karts, and gliders! You can also proudly display badges, earned by completing certain challenges, next to your in-game name!

Bonus challenge courses put a twist on traditional races!
In certain races, 1st place isn't always the goal. With names like "Vs. Mega Bowser" and "Goomba Takedown," these bonus challenge courses demand a different approach to gameplay and strategy!

Race to increase your online rank!
Boost with the best of 'em! Your high scores will determine how you compare to other players all over the world. Keep practicing and trying out different combinations of drivers, karts, and gliders to increase your score and rise to the top!

Note: A Nintendo Account is required to play Mario Kart Tour.

* Free-to-start; optional in-game purchases available. Persistent Internet, compatible smartphone, and Nintendo Account required. Data charges may apply.
* For information about our ads, please see the How we use your information section of the Nintendo Privacy Policy.
* May include advertising.

User Agreement:
https://support.mariokarttour.com/application_eula

2019 Nintendo
Mario Kart is a trademark of Nintendo.
Enjoy with UptoPlay the online game Mario Kart Tour.
ADDITIONAL INFORMATION
Developer: Nintendo Co., Ltd.
Genre: Action
App version: 2.10.1
App size: 135M
Recent changes:
Addressed known issues.
Comments:
game is fun, but theres not nearly enough cups. Micropurchase has ruined it. Multiplayer is absolutely impossible, & is so frustrating & idk how ppl beat it. I have 5 stars in every race but 2, & all cups completed. There's no possible way to receive the amount of points for the challenges/coins/rubies. I dont understand how w/o spending 80 bucks a month on ppl. Theres not enough challenges that dong include MP & its very frustrating. I love the actual game when new tour starts after that, no.
A few months ago the game used to be a pay to win money grab but now I feel that this game has gotten better as you can earn gems to unlock stuff easier. Gameplay is fine. Just a regular old mario kart nothing special. The actual multi-player is not fun in the slightest don't waste your time on it. No matter what you're always placed against the people who spend 200+ dollars for one character just so they can get an advantage. Multi-player aspect of this game is PAY TO WIN. fix your stuff.
It's a fun game with lots of iconic maps and characters and the addition of landscape view was just amazing, but the functionality of the items are wack sometimes. The red shells miss their target entirely and do a lap around the track, the blue shells don't hit anyone sometimes, and the bullet bill might get you stuck on a pole or wall until the duration is over. Also, the triple item usage could be improved. I think it would be better to use each of the three items separately, not all at once.
AI is way too aggressive and needs to be toned down. Multiplayer is an atrocious joke. Gold pass rewards are rediculously stingy. Unfair weekly matchups are designed to make you pay $50 for rare items just to be competetive. Rare items are purposely buried at the bottom of pipes to waste your resources. Games like this should be illegal. Don't waste your time on this. This game is frustrating more often than it is fun.
I've been playing for a couple of years and have been a paid subscriber. Despite putting well over $100 into the game over that time, it's really impossible to compete unless you are buying up $30 dollar offers for select characters. If you don't pay the $30, you won't ever get ahead and move up. The subscription just makes you tread water and not actually get anywhere. And the odds for a gold pipe are ridiculous. I just spent 60 rubies and it got me nothing useful."
Page navigation: