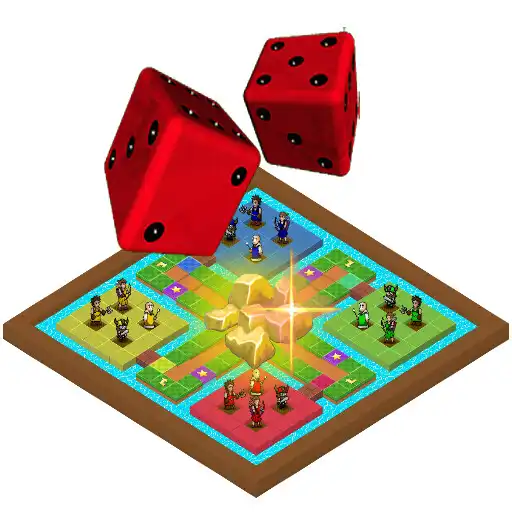 Ludo Game : Gold Star Master King
The official app &amp game
Distributed by UptoPlay
SCREENSHOTS
DESCRIPTION
Use UptoPlay to play online the game Ludo Game : Gold Star Master King -Dice Board Game.
DOWNLOAD NOW..!! AND PLAY LUDO LIKE NEVER BEFORE..!!
Free Ludo game with world full of powerful and cute Warriors to fight your opponents and Collect game gold. Ultimately become Gold Master King.

Development In Progress: Development of many important features are still in progress. This app will get a big transformation soon. 36+ new characters are in final stages of development. Online Version will be activated in last version.
Unique Features:
All warriors have specific powers. Can be performed when enough Chakra is accumulated (In development).
Unlike classical Ludo, the main criteria of this game is to mine as much gold as possible and become Gold Master King.

Modes:
Against Players: Participate in Ludo fight with 2 or 4 players offline.
Against Computer: Fight with computer-controlled Ludo Warriors against 1, 2 or 3 opponents.
Online Mode: Is in development.

How to Play:
Every Ludo player has 4 different warriors or champions with unique set of abilities standing on their base location who obey their Ludo Master King (i.e. Actual Players).
It is must for players to get dice count as 6, to start moving the warriors or champions on the game tiles.
If a Warrior or Champion lands on the same tile as that of other (of opponent), that standing warrior is killed and reborn at its base location.
There are safe locations on the board, where no Warrior or Champion can kill other. These tiles are marked with Stars.
Main goal is to complete the entire Board tiles and reach at the center of the board, where there is a Gold mine.
Once inside the Gold mine, warriors or champions mine gold every next cycle of turns.
Game is over, when either the Game Gold is completely mined, or all Warriors or Champions are inside the Gold pit.

You might not be able to see major game features as the app is in development. It will take some time as it involves more testing and graphical designing. This game is just a proto-type and open for testing and ideas.
DM: [email protected]
Enjoy with UptoPlay the online game Ludo Game : Gold Star Master King -Dice Board Game.
ADDITIONAL INFORMATION
Developer: Demonish Inc
Recent changes: Improved game animation.
Page navigation: