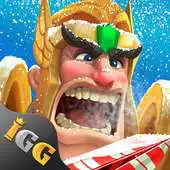 Lords Mobile
The official app &amp game
Distributed by UptoPlay
SCREENSHOTS
DESCRIPTION
Play this online game named Lords Mobile.
The world is much changed after the first emperor's death. Driven by their ambition and greed, Lords seek power and shatter the peace that once reigned. The Land has been split into myriad clashing kingdoms, many declaring themselves the rightful heirs to the throne. Countless monsters have risen from the depths to wreak havoc across the battle-scarred lands. The endless king wars for glory and power have begun, and the time for a battle hero to rise up has come...
Explore the exotic magical lands of LORDS MOBILE, which have been thrown into war and chaos by terrifying monsters, powerful warlords, and cunning enemies. Restore the balance of power in this RPG conquering game by creating the greatest castle empire ever! Recruit soldiers, heroes and warlords, forge alliances and fight for victory! Defeat your foes and conquer and expand your kingdom's territory in these battle games! Fight your way through many epic battles and establish yourself as one of the world's greatest warlords in this real-time strategy war and mobile MMORPG empire game!
☆ Open-World Kingdom MMORPG: Build and Conquer to Create a Mighty Empire ☆
Explore, conquer, and clash in the arena with other players in this MMO in order to save your castle and achieve victory! Join a guild and battle millions of players in an open world on a mobile platform!
☆ Defend Your Kingdom's Territory ☆
Secure your battle troops and war heroes, fight a dragon, defeat your warlords' opponents, and defend your empire's castle from destruction at any cost to achieve victory. A perfect war strategy requires an invulnerable defense!
☆ Find Friends and Clash! ☆
Fight and attack with your kingdom's allies and tactics, and ride into this epic multiplayer battle as a guild to crush your enemy in a mobile MMORPG!
☆ Rule as Emperor of the Warlords ☆
Emerge victorious in a MMO multiplayer strategy battle royale for the kingdom, and claim the throne in this empire game! Will your legacy as a conqueror and emperor be just or cruel?
☆ Clash with Powerful Heroes ☆
Recruit and upgrade your war heroes and kings with legendary skills to clash in the battle arena! Let them attack, conquer enemy kingdoms, fight for victory, and match them to complete an RPG campaign!
☆ Master Your War Strategy as an Emperor ☆
Plan your tactics for the battles ahead! Use different army lineups and perfect your multiplayer battle strategy for counterattacks! Discover the best way to conquer enemy warlords in this mobile war MMORPG!
☆ Epic Multiplayer Battles: Different Troop Types ☆
Lead your warriors and soldiers as king-emperor in these clan wars! Choose the type of troops and survive the battle arena: infantry, cavalry, archers, siege, or a mix!
☆ Switch Kingdoms ☆
Establish your empire on new lands by moving to any server you want with a simple tap in this combat war strategy and kingdom MMORPG!
☆ Choose Your Battle Path: Fight or Trade ☆
Create an economic empire based on trade, treasures, and alliances with friends, or become an offensive player that attacks and conquers enemy kingdoms! Will you liberate prisoners of war? Or will your army crumble to dust? It's all about planning your battle strategy and warfare tactics! No kingdom can stand in your way in this village builder and battle game!
Gather your military allies and make use of different tactics on the battlefield to achieve victory in LORDS MOBILE, a multiplayer war strategy RPG. Attack and conquer new territory, plan your battle strategy with your heroes and warlords, and build an epic empire!
Your kingdom awaits. Are you ready for the legendary showdown in this MMORPG challenge?
Facebook: https://www.facebook.com/LordsMobile
Updates:
# Added [Kingdom Gazette] (3rd chat channel): Read the latest Kingdom news here!
# Added [Royal / Feudal Points]: During the Battle Royal / Feudal War, earn Royal / Feudal Points by killing Tier 4 Troops in Royal / District Wonder battles (1 point per kill).
# New Research Tree: [Wonder Battles] (unlocked at Academy Lv 24)
# Upgrade Emperor Equipment to Mythic with [Mythic Embers] (found in the Royal Treasury)
# New District Wonders: [Baron's Blade] and [Baron's Edge]
Lords Mobile from UptoPlay.net
Page navigation: