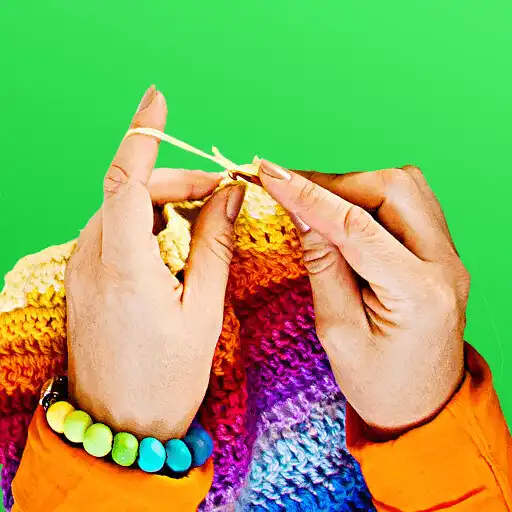 Learn crochet and knitting
The official app &amp game
Distributed by UptoPlay
SCREENSHOTS
DESCRIPTION
Use UptoPlay to play online the game Learn crochet and knitting.
On this app, you will find more than 250 videos to learn easy stitch patterns for beginners to dress up anything, even your doll dress making will benefit from your designs. Have you ever wondered how to crochet a shawl? Now you can learn it fast and easy, get short lessons as the popular 5 minute crafts to fill your closets tutorials.

Navigate through our playlist and find creative crochet ideas, for example, an easy crochet pattern tutorial, or the popular star crochet stitch step-by-step tutorial. Do not forget to use the knitting row counter to develop your crochet knitting pattern. Buying doll clothes will not be necessary, not you can make your own doll clothes, you can do it yourself. Crochet and how to knit is a great skill to have for any creative person.

Learn on your own at home, at your own convenience, and learn how to crochet step by step. Watch these learn how to crochetstep-by-step tutorials and learn with the best android app. Entertain yourself while you learn something new. Or start saving money, with this easy skill you will be able to knit a blanket yourself and save money. Learn how to do your own amigurumi animals and give your friends a fantastic present that they will love. Don't spend more time looking for presents at mini toys shops, you can make your own octopus toy for preemies and other amigurumi animals. Your friends will love them.

We keep updating the tutorials on the app so please do not miss the updates if you want to learn how to crochet step by step, including the latest macrame art, wall hanging, flowerpot, or bag designs that you will love.

You will learn amazing crochet skills:
- learn where to prick the needle or where to chop in the base chain
- Make doll clothes using simple materials, this is the best crochet fabric app. You will be able to
- Easily count the points in a chain.
- Share your knowledge and your favorite 5 minute crafts ideas.
- Watch the world's easiest crochet Afghan pattern.
- Have fun following knitting for beginners while you increase your skills designing hats, gloves, and shawl patterns
- Create your own crochet blanket pattern or even doll clothes.


Our compilation brings nice DIY ideas to create anything from scratch. Even if you are a beginner, we have included easy knitting patterns and macrame designs. There are also plenty of fun home decor ideas to prepare for the cold season. This winter you can create your own fabric sweaters, scarfs, shawls, or hats. DIY Do it yourself!

Have fun with amigurumi tutorials for beginners. Do you want to make amigurumi toys to play with at home, or give them as a present to a friend? Then this is your app. Watch and learn our DIY ideas to decor your home, or amigurumi easy toys to make your own designs come to live.

Watch countless tutorials and videos regarding the art of embroidery stitches and how to use the triple stick. Explore the most popular crochet Christmas stockings, you can even create a blanket and give it as a present this Christmas. It is easy to learn how to knit a blanket step by step. Discover the most popular fashion ideas, and other crochet lessons step by step until you learn the basics of crochet. Create an amigurumi toy and have entertainment while you save money building a homemade crochet crowd for beginners. Our playlist videos are ready to be shared with your friends, including the macrame design patterns and other home decoration ideas.
Enjoy with UptoPlay the online game Learn crochet and knitting.
ADDITIONAL INFORMATION
Developer: Appreciate Appware
Page navigation: