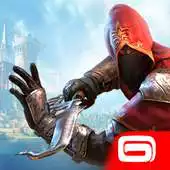 Iron Blade
The official app &amp game
Distributed by UptoPlay
SCREENSHOTS
DESCRIPTION
Play this online game named Iron Blade.
Neither fate nor lineage can make a hero -- you must grab your sword and become one yourself!
Forge your epic destiny in Iron Blade -- the most thrilling of all action RPG games -- set in a medieval Europe filled with war, discord and magic. Explore a fantasy game world brought to life with console-quality graphics and an innovative -- yet easy to learn -- combat system that is never idle and always throws you into one heart-pounding fight after another!
Collect amazing weapons for your monster hunter, explore breathtaking real-world locations and dungeon strongholds to test your skills against millions of other players as your build your own kingdom and engage in exciting PvP challenges.
**GAME FEATURES**
AN EPIC ODYSSEY
- A demonic army of war approaches, and no castle is safe from their discord and bloodlust. This is no time to be idle! Raise your sword, become a monster hunter and fulfill the prophecy to seal them away for good!
- Unravel a plot of intrigue and betrayal as you fight through this RPG game's challenging story missions.
- Explore a game world rich in lore and set in an alternate-reality fantasy Europe, full of epic warriors, discord and arcane mysteries.
- Your RPG adventure games will take you through many awe-inspiring locations beyond any other RPG games, from a fight with Demon Knights in Notre Dame to putting vampires to the sword in a Transylvanian dungeon.
A LINEAGE OF WAR
- Everyone can enjoy the deep dungeon-crawling RPG action thanks to controls that were specially designed for a mobile game, which allow you to smoothly perform amazing chains of sword attacks in the heat of war.
- Develop your fantasy fight style by linking up taps and swipes in the game to perform monster-hunter combos.
- Face a fearsome variety of epic dungeon foes, each rendered from beautiful art, and brought to life with amazing game graphics, action and combat abilities.
- Unleash deadly special-action attacks and finishing sword-moves that deliver a grizzly end to any who dare to battle against you in war.
THE KING OF RPG GAMES
- Fight with fantasy weapons and war armor that you can collect in your RPG adventure games.
- Upgrade your monster-hunter gear to customize your fighting strengths and war style.
- Unleash devastating spells and high-action skills on your in-game foes.
COMPETE WITH PLAYERS
- Establish your own epic fantasy RPG kingdom that you can fortify with a Castle.
- Acquire and upgrade Castle Defenders of the finest lineage to fight off invaders and protect its resources from discord while you're idle or away from the game.
- Take action and wage war on other players' Castle strongholds to crush their defenses and loot their most valuable resources for yourself!
For fans of RPG games, action, discord, sword-swinging role-playing games, fantasy, monster-hunter knight games, building a castle, defending the lineage of a king, and RPG games that never have an idle moment.
_____________________________________________
Visit our official site at http://gmlft.co/website_EN
Check out the new blog at http://gmlft.co/central
Don't forget to follow us on social media:
Facebook: http://gmlft.co/FBIBAN
Twitter: http://gmlft.co/TWIBAN
Instagram: http://gmlft.co/ibingp
YouTube: http://gmlft.co/ytibgp
This app allows you to purchase virtual items within the app and may contain third-party advertisements that may redirect you to a third-party site.
Terms of Use: http://www.gameloft.com/en/conditions-of-use
Privacy Policy: http://www.gameloft.com/en/privacy-notice
End-User License Agreement: http://www.gameloft.com/en/eula
Updates:
WHAT'S NEW?
THE SISTERS' ARENA: Challenge fearsome foes in a new PvE Arena mode to receive generous rewards.
TWO NEW ARMOR SETS: Collect the Eternal Trial and the Dragonhunter sets.
UI TWEAKS: Shop-layout improvements and new loading screens with tips and hints about the game.
Iron Blade from UptoPlay.net
Page navigation: