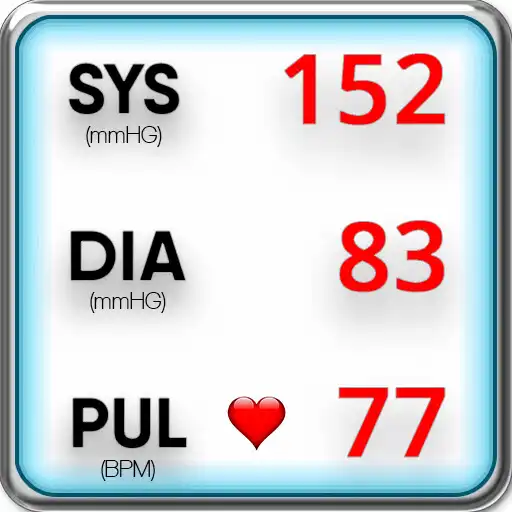 Instant Blood Pressure Tracker
The official app &amp game
Distributed by UptoPlay
SCREENSHOTS
DESCRIPTION
Use UptoPlay to play online the game Instant Blood Pressure Tracker.
Manage Your High or Low Blood Pressure, Weight & Pulse Easily!

Control your blood pressure with multiple build-in features like measurements analysis, statistics, graphs, comprehensive reports your doctor will love and many other tools to analyze high or low blood pressure!

Control high bp (i.e., Hypertension / Hypotension) with My Blood Pressure Monitor : bp checker app!


Features:


Send PDF reports to your physician/doctor.
Keep your data safe with automatic backups.
Tags are provided for you (eg lying, sitting etc).
Configurable date/time formats & measurement units.
Set up reminders to take bp measurements or medication.
You can add notes whenever you want & save them easily.
Manage bp records of multiple profiles (great for caregivers).
Log blood pressure, weight & pulse readings using fast keyboard data entry.
Understand what the numbers mean & monitor high blood pressure trends with statistics & interactive charts.
Export or import data in CSV format for easy data interchange with other applications e.g. Microsoft Excel.
Support for common blood pressure classification guidelines (ACC/AHA, ESH/ESC, JNC).


Font size can be changed from small, medium or large.
You can also customize the color of systolic, diastolic, pulse and weight readings by your own self, according to what color preference you like.

Simple and Easy to use:

1. You can easily log and track systolic, diastolic and heart rate by just swiping your finger.
2. You can easily add your tags (e.g., irregular heartbeat, cuff location like left/right arms, seated/reclined, date & bloodpressure zones).
3. Analysis of Hypotension and Threshold for Diagnosis in detail are also available in the app.

Low Blood Pressure Diary : Evaluation Info Log History Tracker has been made for the people who need constant management for BP, Weight and Heart Beat.

According to American Heart Association (AHA), normal range of blood pressure are Systolic 91 ~ 120 mmHg and Diastolic 61 ~ 80 mmHg.

Organized:
- In order to be organized & use hand sets for health, use specially designed - BP info tool. Add notes, postures, location along with body weight.

History:
- Always have an access to older records with Low Blood Pressure Info App.

Trends:
- Can see trends on line graphs & bar graph with date & compare statistics on graph & control High Blood Pressure.

Data Record:
- You are able to enter your data & view those records in graphs & lists.

Report:
- BP Journal App announces the analyzed changes & the average value of total entered data in 7 days, 30 days & 60 days.

Goal setting:
- You are able to set the target for your readings.

Graph:
- You are able to view the measured data as a whole graph divided by year, month, week & day.
Mean Arterial pressure, pulse pressure and categories propagation can also be analyzed through their individual graphs.

Diary & Memo:
- By entering a memo in the recorded data, you are able to record thought at the moment of measurement

Alarm:
- Do you keep forgetting to take the medicine? BP Diary provides a time alarm to take a medicine & a notification.

We are always making changes and improvements to provide you with best possible service. So, remember to keep your updates on.

Note: This app DOES NOT measure high blood pressure nor low Blood Pressure History. This app does not function as an actual oximeter. To measure blood pressure reliably, use a clinically-validated bP monitor. It is not possible to measure blood pressure with fingerprint scanner on the smart phone.
Enjoy with UptoPlay the online game Instant Blood Pressure Tracker.
ADDITIONAL INFORMATION
Developer: Two Golden Venture
Recent changes: ***Accurate Instant Results***
Page navigation: