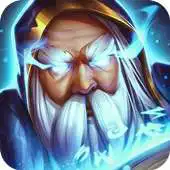 Heroes Of Magic
The official app &amp game
Distributed by UptoPlay
SCREENSHOTS
DESCRIPTION
Play this online game named Heroes Of Magic - Card Battle.
Do you like free card battle RPG games? Then this is the game is for you! Join the quick tactical challenge and crush other players from all over the world. Featuring top new gameplay never before seen in other games! Do your best and crush your enemies in furious 3-minute battles! Become the most powerful lord and master the game! Upgrade your magic cards, try out different heroes, cast powerful spells – this game is sure to get under your skin!
What you want free RPG or card battle games? You'll like this ccg and tcg! Join this tactical games, show strategy, to crush heroes from all over the world. Try unical gameplay never before seen in other strategy card games! Crush enemies in furious 3-minute battles! Become a powerful legend duelyst! Upgrade cards, play with magic heroes, cast powerful spells – strategy games is sure to get under your skin!
Defeat enemy, slayers and creatures in rpg games! Use unique weapons, try combo of card battles, participate in epic war! Imperial Archers, Wind Ninjas, Magic of Divinity use this and other decks to stay alive. Clash with monsters and villains, start ccg and strategy games just now!
Get ready for fast, dynamic and fun card battles. Implement real combat strategies and battle in this RPG Card games! This developed for kids and adults who loves to destroy enemy, castles like real-life castle crashers. You sure to love sorcery, fantasy rpg and fun matches.
Try new combinations from new players in role playing games. Try PVP real time matches, multiplayer (player versus player) mode.
Each strategy is unique! Participate in wars and become as a arcane legends. Real time opponents from over the world of collectable card games! Online battles in rpg games!
Epic Warlords know unique fighting strategy in fantasy rpg! Play card battle games, use sorcery and become a mighty savage or a noble knight! Build your clan and outwit enemies on the battlefield!
A variety of exciting PVP modes (Brawl, Arena matches, Shard, Ranked Battles, Survival, Raids, War of Clans, Tournaments, Events and even more with 3 or more players). Win all the awards in each of action games. Feel what is online battles in magic arena against real players! Enter the arena to fight worldwide gamers in turn-based battles.
Tired of fighting? Try single player mode with monster hunt! Join hero in war against monsters and write your own story in magic card wars.
Guild Wars. It's royal epic battles! Here you have to fight in tactical games for strategically territories and trading. Epic battles and action rpg where heroes become legend and destroy enemies! Take rewards for achievements in leagues! Get on the list of the best warriors!
Improve mighty sorcery skills in fantasy games! Bind to other heroes, upgrade weapons! Become a clan member and destroy other clans in the ultimate battle. Rise to the top of card battles rpg! Become the hero of free rpg!
FEATURES
>>Collect cards, use their abilities
>>PVP and single player mode
>>Participate in strategic battles
>>Climb the leaderboards
>>Destroy enemy clans
>>Worldwide gamers
>>Real time enemies
>>CCG + online battle
>>Unical graphic art
>>Offline mode
>>Free to play
Updates:
- Add Units!
- New special offers!
- Additional reward in chests
- Updated avatars
- Performance optimization and stability improvements
- Many bugs fixed
Heroes Of Magic - Card Battle from UptoPlay.net
Page navigation: