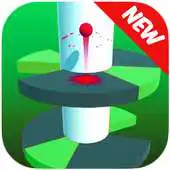 Helix Bounce 3D Ball
The official app &amp game
Distributed by UptoPlay
SCREENSHOTS
DESCRIPTION
Play this online game named Helix Bounce 3D Ball.
Playing Helix Bounce 3D Ball is simple. You put a finger on the screen and move it left to right to rotate the helix structure.
Move the platforms so the ball falls through openings. It can bounce on the platforms, but you cannot bounce on the .
Score more points by going through multiple openings at once. If you go through three or more, you can land on a textured area platform spot as it will break the platform.
Features:
* Multiple levels Jump Helix Bounce 3D Ball
* smooth control
* easy game to play with one-touch controls.
* Difficulty levels for new levels
* great music and sound effects.
* Beautiful graphics
* small APK file size to play online in short time.
We hope you enjoy the new sensation that is running jump and give us thumbs up as feedback. Thanks!
5dd187352e
Updates:
Fix Some Bugs and User Experiance Improvement
Helix Bounce 3D Ball from UptoPlay.net
Page navigation: