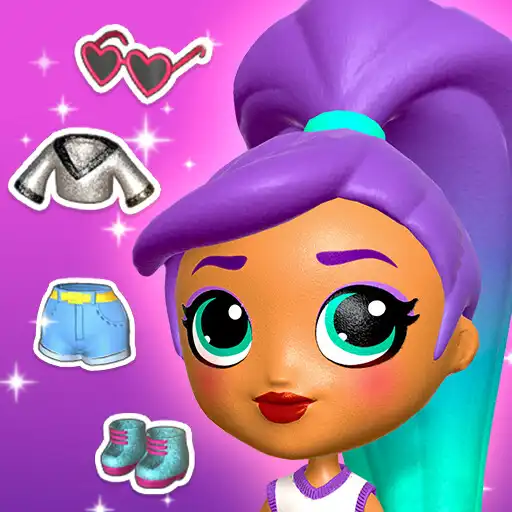 Go! Dolliz: Doll Dress Up
The official app &amp game
Distributed by UptoPlay
SCREENSHOTS
DESCRIPTION
Use UptoPlay to play online the game Go! Dolliz: Doll Dress Up.
Discover Go! Dolliz, the amazing fashion doll game with virtual 3d toy dolls that you can unbox, collect and dress-up!

From Dramaton, the creators of the famous DIY art and design ASMR and 3D coloring games Super Slime Simulator and Squishy Magic, comes Go! Dolliz, a groundbreaking fashion doll collection and dressup game. Forget everything you knew about doll games and discover the next level virtual 3D toy design and styling experience. If you like avatar games, character maker apps, doll design games and unboxing surprise dolls, you are going to love this doll app!

UNBOX SURPRISES
Discover the thrill of unboxing new dolls, as well as hundreds of fashionable clothes and accessories for your dolls. Small unboxing bundles contain a single dressup item, while Large unboxing bundles contain multiple dressup and fashion items, as well as brand new dolls that are added to your doll collection.

MEET THE DOLL TEAM:
MIA - Shes a true fashionista and knows everything about style and fashion (thats why they call her Fashion Girl). She is a fashion makeover master and DIY fashion specialist whos always up to any DIY fashion challenge, makeup challenge or hair challenge.

RAY - Shes all into nature adventures and cute animals (ladybugs are her favorite!). You can probably find her climbing up a tree, playing with her cute pets and cute animals or at the pet rescue, where she volunteers.

ALEX - You can call her Fitness Girl. Shes the sporty girl in the girl squad. She can beat you in any run race or dance battle even when shes wearing high heels! She is also the cheerleader champion of her school and a real gymnastic superstar.

SOPHIA - Or as her friends call her: the Girl Genius or School Girl, lol! She likes brain games, brain puzzles and jigsaw puzzles and her favorite place is, can you believe it? school! Shes also the funny one in the girl squad - be sure this doll is going to make you lol then lol again!

DEE - AKA Guitar Girl (but she also plays the piano). As you can guess, shes all about music and music games, but she is also into art, coloring and DIY crafts: wait till you see her phone case DIY and tie dye collection! When she wants to relax, she likes to play DIY games, coloring games (color by number games are her favorites) and ASMR apps.

UNLOCK DRESS UP SERIES:
Join the doll team as they unlock series after series: School fun, Disco Party, Rock Band, Outer Space and more! Eech doll series is a dress up fashion challenge, which requires unboxing new doll surprise boxes and collecting more dressup items for your dolls.

DRESS-UP YOUR DOLLS:
Experiment with different types of dressing combinations, styles and outfits for your dolls. Pick from dozens of fashion items and cool outfits. Be a super stylist, a master DIY outfit maker, a fashion designer ,and a makeover artist!

TRY DRESSUP AND MAKEOVER CHALLENGES:
Can you dress up your dolls in different styles - hipster, classic, sporty, vintage and more - according to their requests? Try our daily doll dressup and fashion makeover challenges and show your fashion design and styling skills!


PLAY MINIGAMES:
Test your skills with relaxing fun games: cake slicing, memory game, styling challenges and many more! Discover the oddly satisfying lol feeling of popping bubbles, cake decorating game! Collect game coins and use them to unbox new surprise dolls and fashion items for your dolls, then use them to dress up your dolls and design new doll outfits and new styles

Have fun unboxing and discovering your inner styling artist with Go! Dolliz: Doll Dress Up

--------------------------------------------------

ABOUT DRAMATON

Dramaton is the creator of the world famous Super Slime Simulator and Squishy Magic apps, reaching over 100 million fans worldwide. We create unique, high quality creativity and DIY apps that both children and adults can enjoy, relax with and use to express their creative spirits.
Enjoy with UptoPlay the online game Go! Dolliz: Doll Dress Up.
ADDITIONAL INFORMATION
Developer: Dramaton
Recent changes: ☀️

Page navigation: