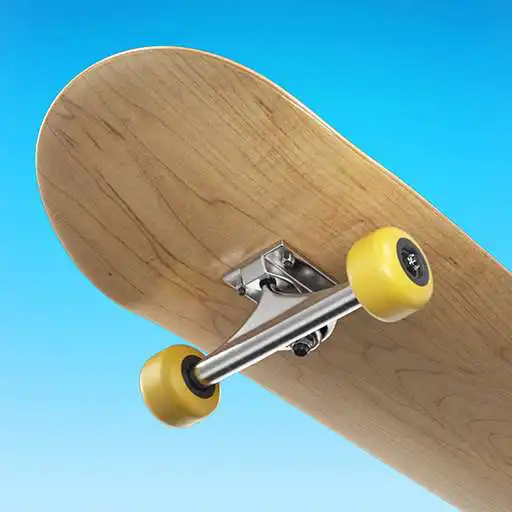 Flip Skater
The official app &amp game
Distributed by UptoPlay
SCREENSHOTS
DESCRIPTION
Use UptoPlay to play online the game Flip Skater.
Skateboard like the Best!

Choose your board and get ready for a thrilling ride on the Halfpipe! Slide down the ramps at high speed to reach outrageous heights and become the best Skateboarder on the Planet!

Travel the globe on the most amazing environments and leave your Skateboarder print all over the World! Do amazing tricks - Nose grabs, rocket airs, frontside airs - Beat the highest scores and show your mad skills to the World!

Download Flip Skater NOW!

--------------------------------------

TRAVEL THE WORLD!

Travel the World and choose your favourite location to Skate! From Miami Beach to Lake Baikal, take on the variety of ramps available for you!

SPECTACULAR BOARDS!

Pick your favourite board from a huge lot of possibilities! Make sure you skate in style! Unlock upgrades for the boards to make sure you maximise your score!

AMAZING TRICKS!

Unlock and Perform insane trick combinations to keep your streak rolling! Beat the highest scores by executing the most dangerous tricks and reaching mad heights!

COOL CHARACTERS!

Unlock & Upgrade a set of super cool characters! Every character as its own stats, make sure you try them all! They are waiting for you!

--------------------------------------

Contact us:
[email protected]

This game does not require internet connection and can be played offline.
Enjoy with UptoPlay the online game Flip Skater.
ADDITIONAL INFORMATION
Developer: Miniclip.com
Genre: Sports
App version: 2.31
App size: 77M
Recent changes: * Bug Fixing and Performance improvements
Comments:
`Horrible. If you want to buy a new trick… good luck. You have to try your luck at it… because, while it says "get it" on the description of each trick… it really means… TRY YOUR LUCK AT GETTING IT! Daily prize is stuck on 50 coins. NO OTHER PRIZE! As long as I've played it, there isn't another one. Should have just labelled it… "Daily 50 coins"?`,
Good but it's missing something and when playing on the computer the ads wont let you leave so you have to go to the app store and click play that the only way you can leave there are also a lot of ads.
`This game is cool! If any of these "tricks" were humanly possible, it probably would get boring, because any reeaaal skater isn't sitting.around playing video games.all day. Maybe it will happen in the future- no handed Miller flips? I like playing this game along! Yay!`,
I wish it was multiplayer so I can play my friends. Can ya'll like not have so much ad breaks like one or two would be fine but it is like every 3 or 4 runs there is an ad break. Also if you can you should add a HORSE like gamemode that is multiplayer.
I love this game. U should play it whenever u get bored. The only thing I don't like is it's just the half pipe. I like doing the street skating better"
Page navigation: