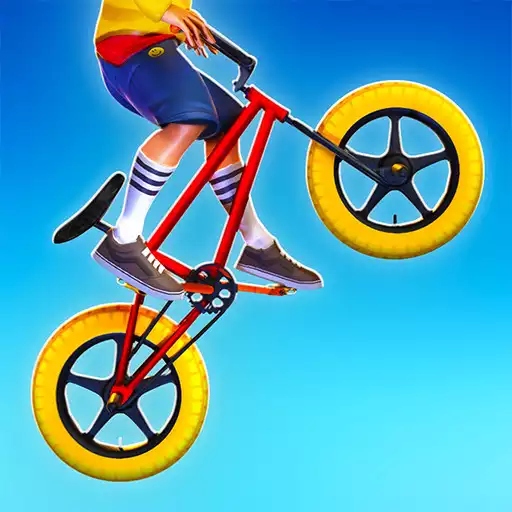 Flip Rider
The official app &amp game
Distributed by UptoPlay
SCREENSHOTS
DESCRIPTION
Use UptoPlay to play online the game Flip Rider - BMX Tricks.
The BEST BMX GAME on Mobile!

Choose your bike and get ready for a thrilling ride on the Halfpipe! Slide down the ramps at high speed to reach outrageous heights and become the best BMX Rider on the Planet!

Travel the globe on the most amazing environments and leave your BMX Rider print all over the World! Do amazing tricks - Nose grabs, rocket airs, frontside airs - Beat the highest scores and show your mad skills to the World!

Download Flip Rider - BMX Tricks NOW!

--------------------------------------

TRAVEL THE WORLD!

Travel the World and choose your favourite location to shred! From Miami Beach to Lake Baikal, take on the variety of ramps available for you!

SPECTACULAR BMX Bikes!

Pick your favourite bike from a huge lot of possibilities! Make sure you ride in style! Unlock upgrades for the bikes to make sure you maximise your score!

AMAZING TRICKS!

Unlock and Perform insane trick combinations to keep your streak rolling! Beat the highest scores by executing the most dangerous tricks and reaching mad heights!

COOL CHARACTERS!

Unlock & Upgrade a set of super cool characters! Every character as its own stats, make sure you try them all! They are waiting for you!

--------------------------------------

Contact us:
[email protected]

This game does not require internet connection and can be played offline.
Enjoy with UptoPlay the online game Flip Rider - BMX Tricks.
ADDITIONAL INFORMATION
Developer: Miniclip.com
Genre: Sports
App version: 2.28
App size: 107M
Recent changes: The BEST BMX GAME on Mobile has arrived:

- Explore challenging Half Pipes around the world!

- Boost your score with insane tricks!

- Challenge yourself by completing daily quests!
- Collect and upgrade unique bikes!
- Unlock and upgrade the coolest characters around!
Comments:
I have really enjoyed playing this game. There is a bug that ask for a review for flip skater. There is also no way to see Achievements. I uninstalled and re installed but that didn't fix the issue and I lost all my progress. I wish there could be updates to take this game to the next level. Adding a log in to save progress would be fantastic. When I change phones I won't be playing anymore because I won't want to start all over again.
It's alright. The game is super similar to flip skater, almost too similar. The game isn't unique and it's repetitive. Also after a long game there is an ad break. I understand they have to profit off their game but it's just too much ads
Game isn't bad but I can't very well play it with an advertisement popping after every round. The ads are obnoxious imo. Dial it back a bit. The frequency is wayyyyyy too high and is literally the reason I will likely be uninstalling
Too many ads and notifications. This company is horrible. The games could be decent but they have too many ads and notifications. Just let us pay a fee and leave us alone. Uninstalled yet another one of their apps
Very very lazy effort by miniclip!. Its just flip skater with a bmx. All levels are the same. All characters are the same. The bikes don't actually fit the half pipes. Challenges are the same.. waste of a download."
Page navigation: