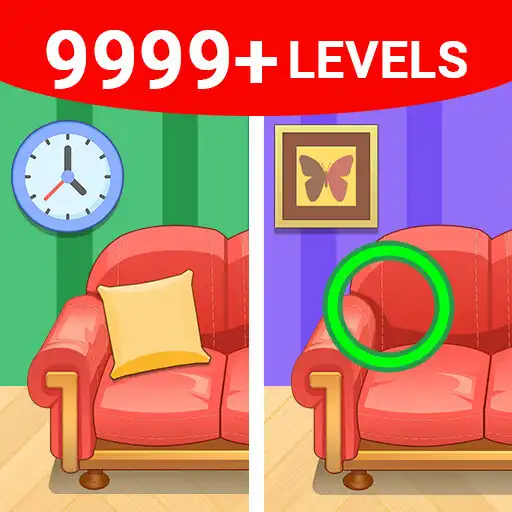 Find Difference: Spot Fun
The official app &amp game
Distributed by UptoPlay
SCREENSHOTS
DESCRIPTION
Use UptoPlay to play online the game Find Difference: Spot Fun.
Find Difference: Spot Fun is an interesting & relaxing free game. In this game, you can seek different details between two beautiful pictures like an experienced detective, focus on your observation completely, and enjoy your spare time without any stress.

Search thousands of photos and relax yourself while finding differences. Whether you are in line, waiting for a bus, taking a break, feeling bored or just want to relax, just open the free puzzle game and take your time at easy.

HOW TO PLAY :
Compare two pictures to spot the differences
Click on the differences and circle them
Pinch the image to zoom in to see more details
Click the hint button when you need a clue
Enjoy thousands of levels and experience the joy of concentration

FEATURES :
No time limit! Relax and enjoy the pleasure of finding hidden objects
Thousands of genius levels are waiting for you to challenge
Simple and durable, easy to get started
Moderate difficulty, suitable for all ages
Tons of HD pictures, see the big world while gaming

NEED HELP? HAVE ANY QUESTIONS?
Support email: [email protected]

If you want to improve your IQ and like to play puzzle games, our Find Difference: Spot Fun is the one for you. Playing find the difference in your spare time has many benefits: it improves your concentration, exercises your memory, trains your brain, and makes you relax.

Are you ready to have fun with Find Difference: Spot Fun?
Download Now!!!

Facebookhttps://www.facebook.com/Find-the-Differences-109738701613095
Enjoy with UptoPlay the online game Find Difference: Spot Fun.
ADDITIONAL INFORMATION
Developer: Joymaster Studio
Recent changes: The latest version that you can't miss ~


- New daily tasks, come to complete the task to get more rewards!

Come and enjoy the fun of finding the difference! We have carefully reviewed all your comments and have made the game better. Please provide feedback as to why you love this game and what else you would like to see improved. How many differences can you find? Take the challenge now!
Page navigation: